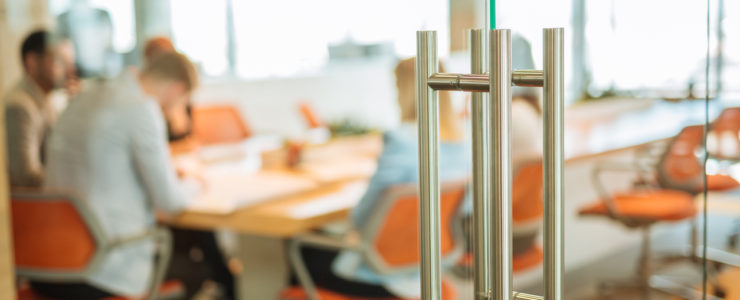 The first time you hire a really good cleaning service, you may feel like your office building has never looked better. Maybe you can actually see your reflection in your conference room tables or your offices glass doors are finally free from fingerprints. But over time, you start to notice that the little things are going by the wayside. Are you imagining it? Or is it time to hire a new building cleaning service?
Here are five ways to tell if your building is actually clean.
Garbage cans
"Really?" you might say. Isn't checking the garbage cans being a bit too picky? If you want happy tenants and a clean building, then it's all in the details.
When garbage cans aren't regularly emptied, trash quickly piles up and tenants become frustrated. If tenants have to take the trash out themselves, you'll never hear the end of it. Make sure that you spot-check a few of your offices in the mornings to see if the trash cans are empty. If they are empty, don't forget to check underneath the trash bag.
If the trash can itself is dirty, it can lead to problems like ants or a smelly building – especially if food waste leaked out of the trash bag and into the can itself. A good cleaning company will pay attention to the little details like that.
Dust
Dust can permeate a commercial building—especially if your building has lots of nooks and crannies or high shelves. When it gets to a certain degree, it can even be harmful to your tenants' health.
Dust can make your building appear unkempt and poorly maintained – not the image you want to give a prospective tenant who may drop by. If you start finding dust on top of your fridge or on your shelves, then you'll know your building is not being taken care of properly.
Similar to your trash cans, spot-checking the top of your fridge or shelving is a good way to see if your building cleaning service is doing a good job. Finding dust on one or two spots is not the end of the world. However, if you start to find blankets of dust on top of your furniture then you know your cleaning service hasn't been cleaning properly for quite some time.
Professional-grade cleaning equipment
When cleaning a commercial building, the right equipment is essential. There's no way a building cleaning service can clean an entire office park with just a mop and a bucket. For the best clean, you need professional-grade equipment.
Your building cleaning service should have commercial-grade equipment. This includes pressure washers, sweepers, carpet cleaners, scrubbers, and both wet and dry vacuum cleaners. Equipment like this removes grease from kitchen equipment, carpet stains, and stains on hard wood floors, and makes sure your building looks like it did when you first moved in.
If your cleaning crew shows up with household products, such as a mop and bucket or hand-held scrubbing brush, then you know that they aren't prepared for commercial cleaning.
Monthly or quarterly deep cleanings
Oftentimes generic weekly or daily cleanings for your building won't quite cut it. It helps to have a list of "deep cleaning" chores to do once a month. If your service isn't keeping up with your monthly deep cleaning, then you know they aren't paying attention to the details that make your office sparkle.
Any appliances in your commercial building will definitely need a deep clean at least once a month. For example, many office parks have a fridge or even an oven in common rooms. Since these aren't used every day, like they would be in a restaurant kitchen, they probably don't appear to be too dirty. However, without a monthly deep clean they will become dirty very quickly.
Check your appliances and "to-dos" on your monthly deep clean list once a month. If they're overly dirty, make sure you check in with your cleaning service and remind them to keep an eye on monthly jobs. It may be that you checked your list just before they were about to start cleaning. However, if it happens repeatedly, then you know your building isn't getting as clean as you think it is.
Clean kitchen area
The kitchen area is often the dirtiest part of any building. Tenants may accidentally explode their lunch when heating it up in the microwave, creating a mess, or a workplace pizza party can result in a large amount of trash and crumbs.
Make sure your building cleaning service is keeping up with your kitchen area. Regularly check your microwave and the inside of your fridge. A few crumbs here and there are okay (everyone is human, after all), but a huge mess means that they're not doing their jobs correctly.
If you know one of your tenants is having an office party, check the kitchen area over the next few days and make sure the area has gone back to its normal level of cleanliness. If your building cleaning service is not keeping up with the fluctuating demands of your tenants, then it may be time for something new.
When you work with the Wilburn Company, you'll know quality.
The Wilburn Company's Quality Control program consists of a Quality Control Manager and Quality Control inspectors that are specific to a group of facilities or a specific client, depending upon the scope of work. This process results in company-wide transparency and accountability for performance, and it's what allows us to provide quality assurance cleaning in MD and throughout the region in a way that's consistent and dependable.
At The Wilburn Company, our quality assurance program extends across all of the industries we service. From government facilities, to commercial sites, to REITs, you can be confident that your site will be kept in the highest state of cleanliness possible.
The Wilburn Company's building cleaning service will show you what high quality cleaning looks like for your facility. Don't wait. Contact us for a quality clean.