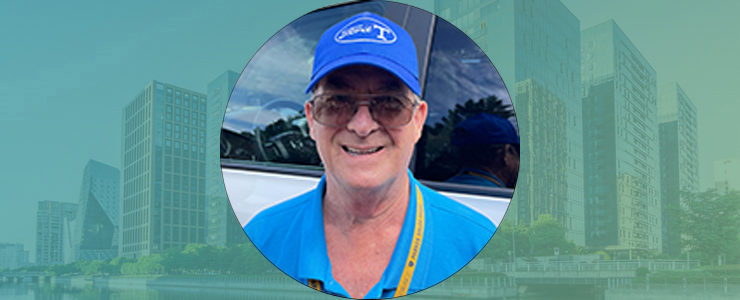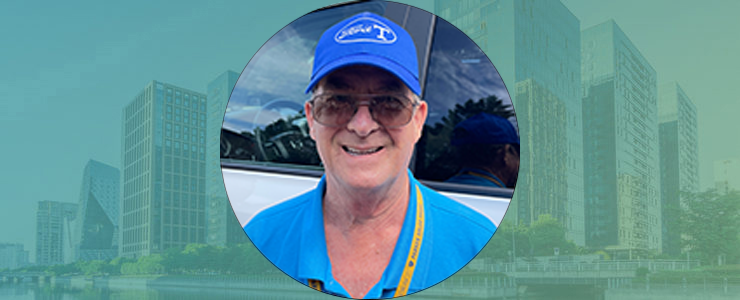 When asked why he was chosen for this month's employee spotlight, Mike O'Dell responded, "I think it's because I take the time to get to know the people around me and the [leadership] knows I'll get the job done."
"It's either that or the Dunkin Donuts I bring to the office sometimes," Mike added with a laugh.
This explanation highlights exactly how Mike treats his career at the Wilburn Company—with confidence, determination, and a sense of humor.
All these qualities have contributed to the growth and success he's found during his time here.
Hopping On to Help Out
Mike first came to Wilburn about 15 years ago. He was looking for a position that would bring in some extra revenue for his family because his son was about to start attending college.
He signed on as a Wilburn day porter cleaning and brought with him a lot of the skills he learned from past positions at other companies.
Before starting with the Wilburn Company, Mike worked several different jobs, including serving in the U.S. Navy, managing ExxonMobil stores, and training drivers to operate massive tractor-trailers.
From all these experiences, he discovered his ability to manage people. "I've been a supervisor my whole life," Mike explained.
So when a leadership role opened at Wilburn, O'Dell stepped up to the plate. He is now one of Wilburn's top Night Managers—a role that has its own challenges.
Communicating and Coordinating
Even though his title is technically Night Manager, Mike likes to think of himself as a coordinator.
He oversees seven buildings and coordinates the efforts of over 20 Wilburn employees who work in those buildings.
"I give our employees what they need, when they need it, to do their job the correct way," he explained.
He starts with cleaning his own assigned building at the beginning and then visits the other facilities throughout the rest of the week to ensure everything is running smoothly.
According to Mike, there's a lot of paperwork and time management involved.
He also helps maintain and improve the relationship between the Wilburn porters and employees in the buildings they clean. "I make sure everything's flowing properly there," he said.
For Mike, the highlight of his management role is very clear to him.
"My favorite part is communicating with the people," Mike explained.
He loves talking with his coworkers and helping them get into the right frame of mind for the day. "Everybody's got personal problems," Mike noted, "But we try not to bring that into work with us, so sometimes [I] like to sit down and chat for a little while."
He said talking it out helps Wilburn employees be more relaxed and ready to communicate and serve their clients at the buildings they clean.
This open communication also improves the cleaning process all around. "People keep their rooms a lot cleaner when they know the cleaner."
Mike also says he really enjoys his coworkers.
His leadership position has helped him get to know others in leadership. "[They're] great supervisors, he said. "Makes my life a lot easier… and we work to maintain the Wilburn standard."
Working for a Bright Future.
Even though Mike spends much of his time helping keep Wilburn's cleaning services running, he also enjoys being with his family and grandchildren.
"We see them on the weekends," he said. "I love spending time with them."
Mike's passion for his job and life shines through even to our top leadership.
Bob Baldwin, The Wilburn Company's Chief Operating Officer, put it this way. "Mike is a good person with a big and thoughtful heart; that drives all of the positive energy around him 24/7."
We are so proud to have an employee like Mike O'Dell on staff at the Wilburn Company, and here's to another 15 years with us!
Thank you, Mike!