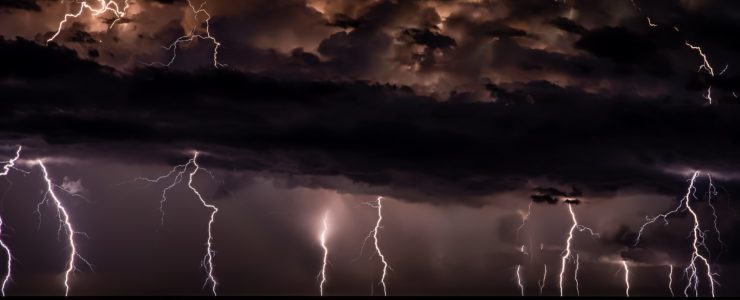 Hurricanes. Tornadoes. Vandals. Burst Pipes.
Emergencies take all forms and can run the gamut from a burst pipe to a graffitied office. Unfortunately, what every emergency has in common is the toll it takes on your space and your employees morale. In the event a significant emergency occurs in your office, sometimes the first step to getting everyone back on track is to get your workspace back to normal. When you have to use an emergency cleaning company, here are five things you should look for.
Prompt Service
Emergencies typically don't occur at a snail's pace. Instead, an emergency can happen overnight and need to be gone by the next business day. When you need an emergency cleaning company, they should be able to respond to you promptly.
Start with your first impression. Did someone answer the first time you called? Did you have to wait for a return call? Could you figure out how to contact them easily?
Prompt service starts with the first impression. When your office is knee deep in water from a flooded pipe, you need someone to respond now. Not tell you that they'll be able to get to you in a week or two. By that point in time your business will have lost too much money.
When your emergency cleaning company comes to service your call, do they start working immediately? Or do they hang around, gawking, and working at their own pace? When an emergency occurs, you need a team that understands what you're going through and the importance of getting life back to normal as fast as possible.
Skilled Employees
Emergency situations can create dangerous environments. Water damage isn't as simple as just removing water from a burst pipe- instead team members need to be aware of electrical dangers, floating debris, and building safety. If you're working with an emergency cleaning company who doesn't have highly-trained employees, then you're just asking for your emergency to worsen, not get better.
Not only does the Wilburn Company have the equipment to handle the toughest emergencies, but we also pride ourselves on the level of training our employees receive.
All of our employees undergo standard janitorial training, but they also undergo environmentally-friendly training for our green cleaning program. Our secure cleaning teams understand how to handle sensitive information and have certifications to handle classified information. And on top of all of that, they also undergo emergency response training.
Our emergency response training program consists of hazardous material handling, transportation, & disposal, as well as a separate program for blood borne pathogen cleaning procedures. Not only do our environmental hygienists undergo the training needed to be in emergency situations, but they also have training in HAZCOM Right to Know/Understand.
The HAZCOM Right to Know/Understand gives our employees the opportunity to know their rights as far as chemical handling, and also provides them with extensive training on safety procedures when dealing with hazardous chemicals or materials. For example, our employees receive an inventory of hazardous materials in your workplace, as well as a comprehensive description of the materials. All employees are trained to label containers of hazardous materials and have the training to work with them.
Highly-trained employees give you the peace of mind that your emergency will get better, not worse.
Confidential Cleaning
Emergency situations can be highly-sensitive. Inappropriate graffiti could be scrawled on office walls, or sensitive information could be in a vulnerable position. Not only will a great emergency cleaning company have the training to handle hazardous materials, but the training to handle sensitive information as well.
Our staff members have undergone stringent background checks to meet federal standards, ensuring that they're able to clean secure facilities. This secure cleaning team can provide you with a confidential cleaning up to government standards.
For example, if a healthcare organization has a pipe burst in a secure location, our team can help you recover from the emergency, even if there is sensitive information close at hand. Our environmental hygienists have the training they need to protect you and your clients' information.
Above and Beyond Service
It's tough enough dealing with an emergency situation. You deserve great service on top of it.
Here at the Wilburn Company, we provide you with a detailed report of the services we provided after every emergency cleaning at no extra charge. It's just one of the ways that we go above and beyond for our customers.
We also use a Quality Assurance program to ensure that you receive the quality clean that you deserve. Our Quality Control program consists of Quality Control Managers and Inspectors that inspect every facility after every clean. Each team is trained in accordance with our high standards to ensure that you receive the quality of work you deserve.
Due to our commitment to company-wide transparency, all Quality Control reports make their way to our VP of Operations and then the President of the company.
Recover with the Wilburn Company
Choosing an emergency cleaning company may not sound like a big deal, but your choice can decide how difficult your recovery from an emergency truly is. Is it easy to manage the team? Are they doing a high-quality job?
The last thing you need is to add managing someone else's employees to your to do list.
With our highly-trained environmental hygienists, quality assurance program, and commitment to prompt service, you'll be in the best of hands with the Wilburn Company. Too often companies are stuck dealing with a tough situation and a bad emergency cleaning company on top of it. Don't let it happen to you.
If you need emergency cleaning services, get in touch with the Wilburn Company today. Call us at 410-789-3320 in the event of an emergency or contact us here.