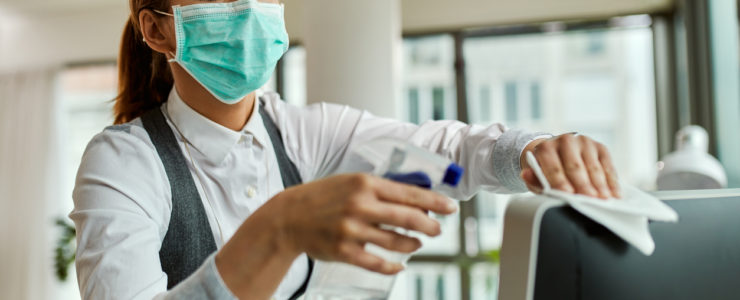 In some ways, COVID-19 has completely transformed the commercial office cleaning industry.
Hand sanitizer, masks, and other personal protective equipment are now normative. Disinfecting procedures for the virus are part of standardized training. There's more communication around cleanliness than there's been in decades.
But, in many ways, this pandemic hasn't changed what we do.
Our employees were already trained to use PPE for hazardous materials. We've had reliable disinfecting procedures in place for decades. And we've always made client communication a focus.
Another way of saying it is that the game hasn't changed, but the stakes are higher.
With that in mind, we've amplified our focus on innovation this year, bringing upgrades to our processes and products to continue leading on the cutting edge of commercial cleaning.
Here are three ways we've pushed forward in the COVID-19 era.
1. Automated Task Lists
We've written before about our use of technology in cleaning processes; our app-based work order system lets our clients view work, track quality assurance, and communicate requests all via an intuitive mobile interface.
This year, though, we've advanced the way our employees perform work on our sites.
We utilize auto generated QR codes to update our work orders and task lists in real-time. When an employee arrives at a building to begin their shift, they use their phone to scan the code. From there, our app displays information about their shift directly to them. They'll see a list of activities required and any notifications pertaining to the job. They'll also be able to log their progress directly from the app.
From an employee perspective, the technology makes performing work straightforward and tracking work easy. From a client perspective, the technology offers insight into the progress of cleaning, built-in quality assurance, and total transparency into our service. Plus, the technology is contactless, which is a win during the pandemic.
We began implementing this technology at the beginning of the pandemic. While we've always been efficient in our processes, this is just one more step toward those ends – and it's been highly effective.
2. Updated Disinfecting Standards
Similarly, we've always cleaned for health – and part of that has always involved appropriate disinfecting procedures. But this year, of course, the emphasis on disinfecting has increased.
In response, Green Seal (a global nonprofit organization that audits and certifies green cleaning organizations) released new disinfecting standards specifically targeted toward cleaning for COVID-19. We've worked with Green Seal to ensure that all of our programs and procedures match these standards.
Focus points include:
Create a cleaning and disinfecting plan. This involves cleaning and disinfecting with increased frequency.
Ensure that cleaning personnel are properly trained. This involves both in-person training and the provision of written and recorded resources.
Maintain sustainability and healthy indoor air. This is to ensure that enhanced cleaning and disinfecting protocols to protect against COVID-19 don't increase exposure to hazardous chemicals for cleaning personnel or building occupants.
Communicate the cleaning and disinfecting plan. This involves developing and following a communications plan to keep stakeholders apprised of actions being taken about the virus.
Provide safer working conditions. This involvesimplementing building-wide policies for occupants and cleaning personnel to practice social distancing and to wear appropriate protective equipment.
Again, these standards are not vastly different from our disinfecting standards entering 2020 – but there is, undeniably, an increased focus on their adherence. We've been proud of the way our people have answered this call.
3. Upgraded Electrostatic Capabilities
Finally, we've also upgraded our electrostatic cleaning capabilities to make disinfecting processes more efficient.
If you aren't familiar with electrostatic disinfecting, here's how it works: An electrostatically charged mist is sprayed onto surfaces and objects. This mist is atomized and designed to aggressively adhere to any surface, which makes it a great solution for areas that are hard to reach or oddly contoured.
Once the mist lands, the sanitizing agent it contains works to disinfect any contaminants – effectively eliminating the threat of contagion from a treated surface.
While we had this capability prior to 2020, in the face of the pandemic we've augmented our electrostatic cleaning resources so that we can easily apply this method wherever and whenever it's needed.
Have questions about commercial cleaning for COVID-19 (and for the future)?
Hopefully, this information is helpful as you move forward in 2020 – and as you begin to look to the future.
If you have any questions about office cleaning services – including about our processes for work order reporting, disinfecting, or electrostatic cleaning – let us know. We're happy to consult with you.
At The Wilburn Company, our mission is to enhance and improve the lives of our employees and our customers. This year, that means tackling COVID-related questions and continuing to provide high quality service throughout this pandemic. We're striving to lead the commercial cleaning industry in these ways, and we'll continue to do so.
If you're looking for dependable cleaning services that improve the health of your facility and its occupants, get in touch with us today.