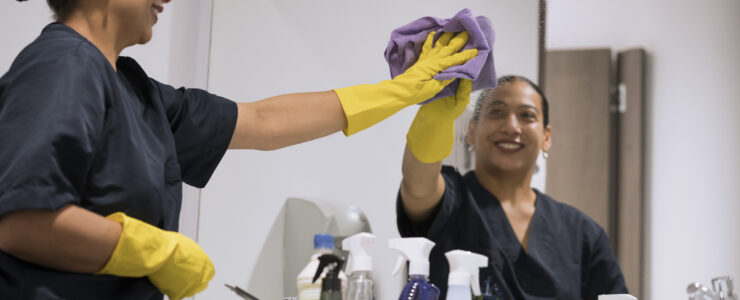 The pandemic created difficulties for just about everyone last year. But for Vonderlier "Cookie" Johnson, it also created an opportunity.
As the world began shutting down, the demand for cleaning began to pick up.
The frequency and intensity of cleaning programs increased as everyone focused on maintaining healthy environments. For cleaning companies, that meant fuller schedules – which, in turn, meant asking for additional commitments from employees or hiring new employees to fill new needs.
Vonderlier stepped up to the plate.
"They were looking for someone to do enhanced cleaning when Covid started," Vonderlier explains, "and I said, 'I can do it.'"
A can-do attitude
Vonderlier has always had a "can-do" approach to her work. That's how she got connected to the Wilburn Company in the first place – by saying yes to a part-time opportunity that was brought to her by a previous co-worker.
"I was working part-time at a food service company," she says, "and my co-worker, who was also working for Wilburn, told me that they were hiring and asked if I'd be interested. I said yes and applied."
Thanks to Vonderlier's impressive approach to the job, things moved fairly quickly from there.
Vonderlier started out as a cleaner working in several buildings, where she was responsible for cleaning restrooms. "I learned how to clean deeply," she says. "There's a lot that goes into it."
She did exemplary work, and, in not too long, was asked to become a nightshift supervisor.
Then, Covid hit.
Continuing to grow during Covid
When Vonderlier took on the enhanced cleaning work during the pandemic, there was a lot to learn.
"There was training that we needed complete to clean for health," she says. "There were new products and procedures that we had to use."
Vonderlier's efforts particularly impressed Chad Conrad, the Director for Performance Management at The Wilburn Company. "During [the pandemic]," Chad recalls, "Vonderlier displayed excellent teamwork and commitment to the company and our clients."
Based on her performance, Vonderlier was tapped to move up into the role of Inspector – a job she's aptly suited for.
The move to inspection
A little over two years into her career at The Wilburn Company, and Vonderlier has moved from being a cleaner to reviewing the work of a team of cleaners. She's charged with inspecting every inch of cleaned space in a building to make sure that it's up to the right quality standards.
She's quite good at it.
"I look at it like this," she explains. "I want things for our clients to be the way I'd want things to be for me."
The future
As Vonderlier looks ahead, she's excited about what the future holds – both for herself and for the company she's proud to be a part of.
"I'm excited to keep meeting people," she says. "I like learning more about the business."
Her boss is excited for her, too. "Her positive attitude and dedication to our inspection side is exactly what we need at The Wilburn Company," says Chad. "She's really a team player."
As if to prove Chad's point, Vonderlier is quick to give credit to her team as well – and to voice her appreciation for Chad, specifically. "He's the best boss ever," she says of Chad. "Any questions I have, he's always ready to help."
"Always ready to help." Coincidentally, it's a phrase that describes Vonderlier's can-do attitude perfectly – and we're grateful for it. We appreciate all of her efforts in her two-plus years here, and we're looking forward to continuing to watch her journey as she continues to grow. From all of us at The Wilburn Company, thank you, Vonderlier!