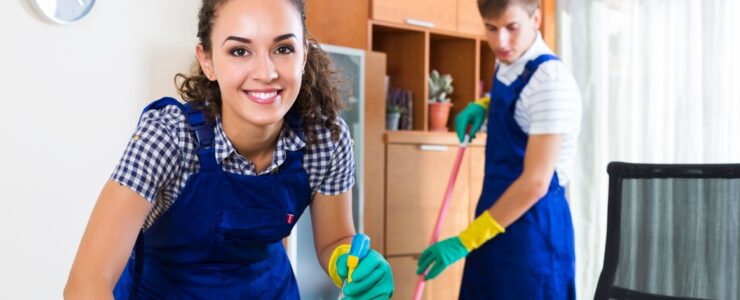 For over 25 years, The Wilburn Company (TWC) has served corporate offices, government facilities, and real estate investment trusts in the mid-Atlantic region with premier commercial cleaning services.
Our success is rooted in a simple yet powerful commitment: "Delivering an extraordinary customer experience every day."
This motto represents a shift from viewing clients as mere customers to embracing them as true partners. It's the difference between showing up to provide a service and showing up to solve problems. Between doing the minimum required and exceeding expectations. Between being a vendor and being a partner.
At The Wilburn Company, we choose partnership.
What Makes a Partner Different from a Vendor?
Most janitorial services or commercial cleaning vendors typically operate off a straightforward cleaning checklist. They usually don't know your staff or your business past a surface level, and may not be aware of proper protocols or how their services might impact your operations and reputation.
But when you have a true partnership, a cleaning service becomes an extension of your team that brings newfound value to your business.
While a vendor simply executes tasks, a trusted partner like TWC brings innovative solutions to the table, working constantly to nurture meaningful relationships with staff, stakeholders, and clientele.
At TWC, we understand that our role extends beyond providing cleaning services; it's about building trust, understanding your unique needs, and working together to achieve a common goal. This mindset sets us apart from the competition and enables us to deliver exceptional service.
Advantages of a True Partnership
In the commercial cleaning industry, having a true partnership brings several benefits compared to a traditional vendor relationship. These are just a few advantages our partnership model:
Customized Solutions
A one-size-fits-all approach simply doesn't cut it. Our team works closely with each client to understand their unique needs and craft custom-fit cleaning solutions.
Whether it's a high-security government facility, corporate HQ, or sprawling real estate properties, we design services around individual requirements. Customization ensures every space receives care that matches its purpose, volume of traffic, and any specific industry regulations.
Proactive Communication
Open lines of communication are essential for a successful partnership.
Our supervisors maintain regular check-ins to monitor satisfaction and swiftly resolve concerns. Clients can expect complete transparency about our processes and performance. We provide detailed reports, timely notifications, and proactively offer suggestions to improve efficiency and outcomes.
This proactive approach allows us to go beyond our core cleaning services, turning us into a vital part of our clients' business operations.
Dedicated Staff
Our employees are our most valuable asset. We invest heavily in hiring, training, and retaining a stellar team committed to our partnership philosophy.
When partnering with TWC, you can expect to work with the same team over time. Our high level of familiarity with clients and their businesses allows our teams to maintain high standards of cleanliness. They are also more likely to spot potential issues before they become a problem.
This consistency in staff and training enables us to deliver unmatched quality and responsiveness.
Making Every Interaction Count
As part of our commitment to being a partner, we've instilled in our team a number of core values. These include the importance of making every interaction with our clients meaningful and memorable.
Here are just a few of the ways our team stands out on a daily basis:
Dressing to Impress: Our team wears uniforms and maintains a professional appearance at all times.
Saying Hello: We encourage our team to interact with clients, build relationships, and create a friendly rapport.
Performing Exceptionally: We strive to outperform our competitors by going above and beyond in our cleaning operations.
Staying Organized: We keep our tools, carts, and barrels clean and organized to promote efficiency and professionalism.
Exhibiting a Sense of Urgency: We respond to client needs swiftly and accurately, demonstrating our commitment to their satisfaction.
Being Seen: We believe in transparency and showing our clients the hard work we put into keeping their facilities pristine.
Being Memorable: We aim to create enjoyable and unique experiences for our clients, leaving a positive impression that lasts.
We believe that these actions, while seemingly simple, make a substantial impact in elevating our client relationships and delivering that extraordinary customer experience we strive for every day.
Our Commitment to Extraordinary Experiences
The Wilburn Company's motto, "Delivering an extraordinary customer experience every day," is more than just a slogan. It's a promise to our clients and a guiding principle for our team.
We understand that anyone can clean buildings, but not everyone can bring the level of commitment, innovation, and partnership that we do. By offering more than just cleaning services, we ensure that we're not just another vendor – we are your trusted partner in success.