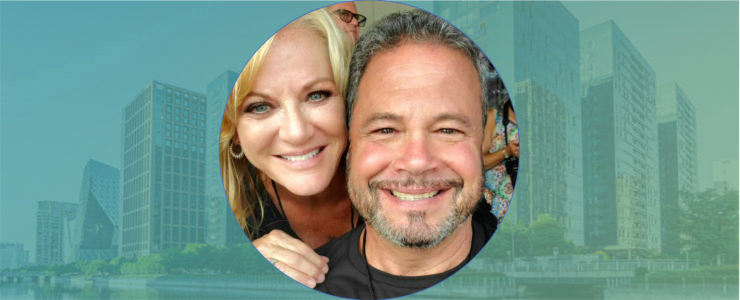 Bob Baldwin believes that all things happen for a reason. "I am 100% certain that I was meant to be with The Wilburn Company," he says.
His belief in destiny has served him well in his role as COO of The Wilburn Company. He joined The Wilburn Company nearly seven years ago, and his passion and innovative leadership has helped us grow exponentially.
Today, The Wilburn Company is a well-oiled machine, thanks in large part to Bob's hard work and consistency.
His dedication to his work has earned him a nomination for ONCON's 2023 Icon List of the Top 100 COOs across the US. We're so proud of our COO and know that he was meant to be nominated for this prestigious honor.
"It's well-deserved," Wilburn CEO Jimmy Wilburn says. "He's done so much to take our company from one level where it was very good and well-respected to another level where people are coming to us for things that they didn't used to us come for."
Bob's journey to this award nomination and Wilburn is inspiring, highlighting his belief in fate and determination.
But before we dive into his story, please head over to this page to vote and show your support and appreciation for Bob!
Strong Beginnings
Bob got his start in the commercial cleaning industry working as a consultant for performance-based janitorial contracts. One day he was giving a speech about his work and was approached afterward by a Home Depot representative interested in improving cleaning services in their stores. "Long story short, we designed a performance-based program and tested it in a group of stores in MD and VA. It was a huge success, so they rolled it out to the entire country. " Bob says.
Working off his success, Bob ended up joining a janitorial firm and cleaning several hundred stores on the West Coast. "That was my transition from consulting to actually cleaning," he says, "From there, I went to a multibillion-dollar organization that wanted to grow their corporate janitorial business after they attempted to buy our company."
After several years of traveling all over the country five days a week, Bob returned to his home state—Maryland—and found a role as the sales VP for a local janitorial product distributor.
"The Wilburn Company was one of their biggest customers, and this is where I first met Jimmy Wilburn," he says. "And the rest is history!"
A Man With A Plan
For Bob, his history at Wilburn is nothing short of impressive. Once he started, Bob began to apply his passion for innovation.
In his new sales roles, Bob learned about the many moving parts of Wilburn as well as the ways they could improve. When Bob helped grow sales by more than 20%, he caught the attention of Wilburn CEO Jimmy Wilburn and presented his ideas. He was handed the reins of COO and given the daunting task of implementing all his plans. In effect, Bob started restructuring the entire company.
With an eye to improving efficiency, he redesigned administration, finance, operations, security, and training roles while adding a new human resources division.
But Bob didn't stop there. Adding to Wilburn's list of commercial cleaning credentials, he implemented a GS-42 certification requirement, a green cleaning program, and a new performance management system.
"I developed processes and procedures around each department to give a clear and concise path to success," he explains. "I also created an Internal Newsletter, "Healthy Highlights," that provides valuable information from each department of our company, general well-being information, and tips, as well as employee spotlight articles."
The changes that Bob has made have had a positive impact on virtually every area of the company, from sales to administration.
Even now, Bob knows his work isn't finished. He still works to make Wilburn even better.
"In a nutshell, because we have such a solid infrastructure and really good people running each department, I spend my time attending monthly customer meetings, reviewing ways for us to be more efficient, more cutting edge, and a better company for people to work for." He notes, "Each and every action is designed to achieve our collective goals set forth in the beginning of the year as well as adjusting to any emergency that may come our way, like the Covid-19 Pandemic."
Why Bob Loves The Wilburn Company
All of this impressive work stems from Bob's beliefs about what makes an exceptional leader, which is a major part of his philosophy of work at Wilburn.
"I will say that earning the respect and trust of those you work with is most important. I do this by showing them that I believe in the company and its mission…I believe our team [can] accomplish any and every goal we set forth," he says.
He echoed Apple mogul Steve Jobs' words about employees and leadership. "We hire smart people to tell us what to do, not for us to tell them what to do." Bob is also a big preacher of work/life balance.
"It is very important to me that all of our employees have the best home life possible while still getting their job done," he says. "At the end of the day, I want them to be better than me in all that they do!"
When asked what his favorite part of working as Wilburn's COO is, Bob is quick to gush about the company and his employees.
"We have the best people to work with…they are not only good at what they do for the company, they are genuinely good people," he notes. "Working with them, teaching them, learning from them, and helping them reach their goals is so rewarding."
Showing Support
Under Bob's leadership, The Wilburn Company has grown by leaps and bounds, with many internal processes reworked for the better.
We all have a journey that leads us to where we are today. For Bob Baldwin, his journey has led him to The Wilburn Company and, recently, to ONCON's Icon List for Top 100 COOs in the US.
Let's rally around Bob and help him take this nomination and win his place on the list. We know he's earned it! Visit the ONCON award site here to vote for Bob. Voting ends on November 1!
Here's to you, Bob! Wishing you a win here, and many more successful years at Wilburn!