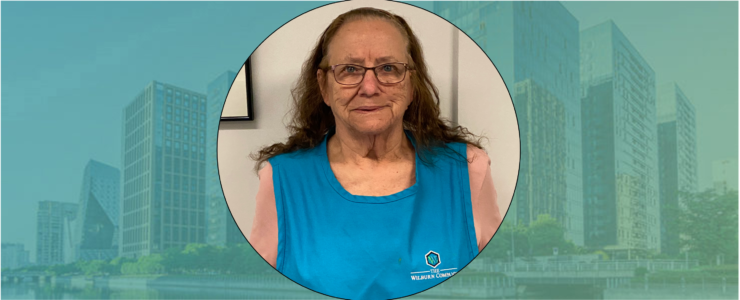 ­­­­ At the Wilburn Company, reliable and considerate are words that are synonymous with the name Julia Weber. As one of her managers stated, "When Ms. Julia sees something that needs to be done, she doesn't wait to be asked, she just takes care of it." That's a testament to the positive impression Julia has made over more than 20 years of working for us.
Like many of our employees, Julia Weber was hired through a family connection and has enjoyed her time with us. When asked why she has stayed and why she was selected for an employee spotlight, she responded with, "I'm always there and I finish the job." Finishing the job and going above and beyond have become important themes for Julia.
Coming Onboard
Julia came to Wilburn after she retired, hoping to work part time to supplement her income and work in a familiar field.
Before retiring, Julia worked in several local malls and department stores, and while working for a hotel she made the decision to transition to cleaning as a career.
"I used to be a cashier and I thought 'Well, I'm going to change,' she said. Julia expressed that she was grateful she changed paths because it eventually brought her to Wilburn.
"The people are really nice where I work," she says. "They are really wonderful, and I really like my job!"
Constant and Attentive
When she originally started working for us, Julia worked on our night cleaning crew before a position as a day porter opened up. Knowing Julia would be a good fit, her area manager, Luke Raymond, asked her about the open position.
Fortunately, Julia was ready for a change.
"I said, 'Well, I'll give it a try,' and I've been here for over a year now,'" she says with a chuckle, "'so I guess I'm doing okay.'"
"More than okay" would be a more accurate way to describe how Julia completes all her day-to-day tasks.
In the building she is assigned to, Julia checks the bathroom and kitchen twice a day and wipes down all windows and glass doors.
She is also responsible for vacuuming the first-floor building carpets, which can present some challenges especially during the Fall.
"Last time I was there, there were a lot of leaves outside. I had to sweep up all the leaves outside, or else they will blow inside, then I'll have to re-vacuum the carpet."
She also says she likes to go through other floors on the building and make sure the carpet is clean there too.
This attention to detail and can-do attitude is not lost on her clients.
One client commented, "When Ms. Julia is in the building, they know it's a clean and safe work environment."
Another said that when Julia passed her office, she noticed that the paper shredder had made a mess on the carpet. Without being asked, Julia retrieved her vacuum cleaner and took care of the mess". This client couldn't have been more appreciative of the good work Julia was doing.
A Cornerstone of the Company
Although she has worked hard and earned this recognition, Julia credits her success to the team she works with.
"They are just wonderful people," she says," If you do your job right, you won't have any problems."
As quick as Julia was to compliment her managers—Tom Foster and Luke Raymond—they were just as quick to return the compliment.
Raymond says this about Julia: "Julia makes sure that any issues she encounters are promptly reported, which allows the maintenance team to respond immediately. She is a cornerstone for the company being able to reach customer satisfaction, and she continues to provide excellent care for her buildings. She an example of the company mantra "Cleaning For Health."
Julia knows she's a part of a good place at Wilburn. After leaving for a brief time—when she moved down the eastern shore to be closer to her daughter—she knew she missed it.
"Every month they'd ask me if I was happy, and I'd say "no," she recalls.
When she finally returned to the Baltimore area and started again at Wilburn, it was a surprise to no one.
"When I came back, Tom Foster told me he told everyone I'd be back," she remembers, laughing.
We're so grateful Julia returned to her Wilburn family!
After all, Julia's no stranger to big families. Raised in a family of 14 brothers and sisters, she knows how to juggle tasks.
That experience has served her well over the years, as she has raised four children of her own—three daughters and one son. Now a grandmother 11 times over, with five great-grandchildren and one more on the way, Julia shows no signs of slowing down.
In her spare time, she enjoys sewing and baking—two hobbies that have come in handy for making personalized gifts for her large family.
Whether it's a birthday cake or a quilt, Julia puts her heart into everything she makes—just one more reason why her family loves her so much.
It's also why we love her. The Wilburn Company is fortunate to have Julia with us and proud to call her family.
Here's to many more years at Wilburn. Thank you for all you do, Julia!