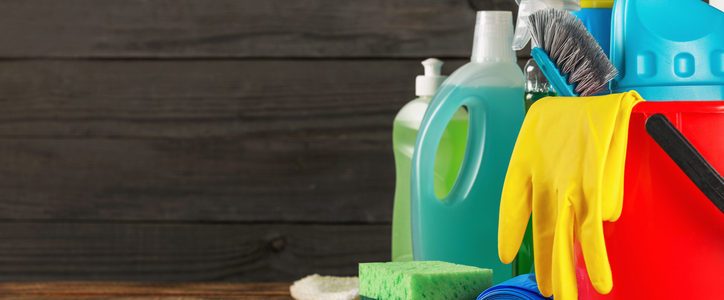 The job of an environmental hygienist involves much more than cleaning up spills and taking out the trash. As a matter of fact, that's why we prefer the term environmental hygienist over janitor. As any good commercial cleaning service knows, our employees have to know a lot more than your typical house cleaner.
Let's take a look at five skills top cleaning employees should know how to do.
Handling of Bodily Fluids
Depending on the clients of your commercial cleaning service, you may have to know how to handle bodily fluids. In order to handle bloodborne pathogens, you have to be OSHA certified to know the risks of bloodborne diseases. Fines for exposure to blood in a professional service without an OSHA certification can result in fines up to $70,000.
The training for bloodborne pathogens includes:
defining potentially infectious materials
developing an understanding of occupational exposure
understanding compliance methods including personal protective equipment
handling sharps, needles, and syringes
how to perform chemical disinfection, aseptic techniques, and autoclaving
epidemiology
biohazard precautions
Mold Inspection
Mold is something that every commercial cleaning service comes across no matter what industry they work in. However, just because it's more common than working with bloodborne pathogens doesn't mean it's not harmful to your health.
According to the Center for Disease Control, " the IOM found sufficient evidence to link exposure to damp indoor environments in general to upper respiratory tract symptoms, cough, and wheeze in otherwise healthy people and with asthma symptoms in people with asthma."
Cleaning up mold is essential to a safe work environment. Environmental Hygienists have to undergo 80 hours of training on identifying and correcting potential mold infestations while protecting their own health and safety.
Green Cleaning
A green commercial cleaning service has to undergo a company-wide GS-42 cleaning certification. The Wilburn Company takes this certification above and beyond by accompanying it with a Performance Measurement Management program that ensure green cleaning goals are met for our clients.
Green cleaning certifications involve the use of environmentally friendly products and training on how to use less water, reduce chemical and solid waste, and optimize cleaning frequencies.
To receive a green cleaning certification, staff must undergo a preliminary screening before applying and undergoing an evaluation. Then Green Seal staff will audit both staff and the commercial cleaning service facility. To maintain a GS-42 green cleaning certification, periodic compliance monitoring must be conducted to ensure all staff and facility practices are cleaning in a green way.
Normal cleaning products contain endocrine disrupters, phosphorus, nitrogen, and volatile organic compounds. All of these chemicals harm wildlife, the environment, and the people that use them. These ingredients can cause skin and eye irritation to janitors and cleaning staff. Chemicals leaking into nearby water sources can cause nutrient overloads that damage the aquatic species living there.
Chemical exposure has 6% of janitors out sick with a job-related injury each year. There are 2.8 million working janitors who are potentially exposed.
Chemical Hazards
All commercial cleaning service employees work with chemicals. While you may find these chemicals in your pantry cabinets, commercial environmental hygienists must have a thorough understanding of how to appropriately mix and handle chemicals, both for their own safety and to provide a safe working environment for their customers.
According to the American Lung Association, many cleaning products release volatile organic compounds. These compounds can contribute to respiratory problems, allergic reactions and headaches. Past studies have even linked VOC to occupational asthma and other respiratory illnesses. Chemical exposure has 6% of janitors out sick with a job-related injury each year.
On the other hand, mixing the wrong chemicals together, like bleach and ammonia, can create a toxic gas that has the potential to create chronic breathing problems or death if an environmental hygienist is over-exposed.
Environmental hygienists undergo training to ensure that they have the skills necessary to handle cleaning chemicals and understand which chemicals are safe to use together and which to never mix.
Secure Cleaning
The Pentagon. The White House. Secure facilities still need to be cleaned. Special teams of environmental hygienists submit to training on data security and undergo background checks in order to be able to clean these top security facilities.
A team of environmental hygienists at the Wilburn Company meet federal standards for green cleaning. This means that our commercial cleaning services employees have undergone EQIP background checks and have some sort of security clearance. Having a security clearance means that accidental employee negligence won't lead to a leak of classified information. When obtaining a security clearance, environmental hygienists must take courses on how to handle secure information.
The Wilburn Company is proud to provide a fully cleared and vetted staff to service secure facilities. Each of our staff members has undergone stringent background checks to meet federal standards, guaranteeing the maintained security of your facility.
The Wilburn Company Knows Environmental Hygienists
As a premier commercial cleaning service in DC and beyond, the Wilburn Company prides itself in its ability to recruit staff members that are motivated and have the desire to support the TWC mission of excellence. We work hard to develop a strong relationship with our employees and have developed a hands-on approach that helps staff deliver the best custodial service possible.
The next time you're looking for great commercial cleaning services, contact the Wilburn Company. Whether you have questions about the cleaning needs of your facility, the services we offer, or more, we'd love to hear from you.