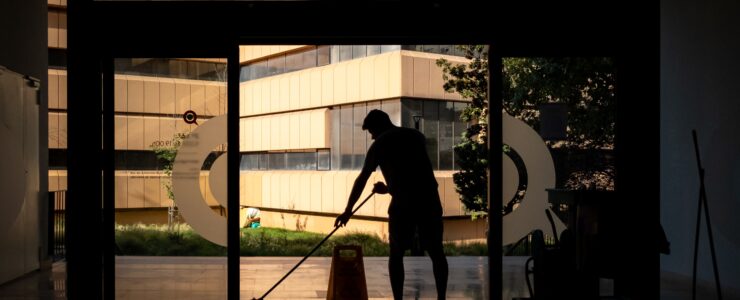 Looking for a commercial cleaning company in Maryland?
We've put together a list of six top options based on our 20+ years of experience serving the Maryland area.
There's a strong chance one of these cleaning companies will be well suited to meet your needs.
Yes, we're biased – but we're also proud of our work.
At The Wilburn Company, we provide commercial cleaning for corporate offices, high-security government facilities, and real estate investment trusts across Maryland and the DC area.
What sets us apart:
We were the first GS-42-certified cleaning company in Maryland. Others have followed suit, but the bottom line is that we're experts in green cleaning. That can have huge benefits for the safety of your building occupants, and it can even give you tax breaks.
We care a ton about communication. We've invested in an easy-to-use app and a robust performance management staff so that you can rest assured cleaning services are happening the way you need them to be.
The bottom line is that we offer quality commercial cleaning services that keep buildings safe and their occupants healthy.
You can request a quote for your commercial spaces here.
Commercially Clean is an aptly named company located in Owings Mills, Maryland. They offer services in Carroll County, Howard County, Montgomery County, Frederick County, and Baltimore County.
They're something of a generalist meaning they don't have a specific industry focus or a differentiated cleaning approach.
Here's how they explain their services:
"We are locally owned and operated. No franchise here. When you call us you are most likely going to speak with one of our owners who can answer all of your questions. Not to mention, the money you spend with us goes back into your community."
If you're looking for a boutique cleaning company where you can quickly reach the owner, Commercially Clean is worth considering.
This company is almost diametrically opposed to Commercially Clean – they're a huge franchise operation, with independently owned janitorial businesses in cities across Maryland, including Annapolis and Baltimore.
They also have franchises located in states across the US; the brand is actually based out of California.
Here's how they explain their commercial cleaning approach:
"Vanguard Cleaning Systems® janitorial franchise businesses deliver high-quality, consistent commercial cleaning services to over 18,000 satisfied customers throughout the U.S. and Canada."
If you want to work with an established commercial cleaning brand, Vanguard Cleaning Systems is worth a look.
Not to be confused with the previously mentioned Commercially Clean LLC., Commercial Cleaning, Inc. is another Maryland janitorial company. They focus on serving the Greater Baltimore areas, including Baltimore County, Harford County, Howard County, and more.
They are also a bit of a generalist – here's how they put it on their homepage:
"Commercial Cleaning Inc. is locally owned and operated, and we are ready to get your business sparkling clean. From warehouses to manufacturing plants to office buildings and medical facilities, we clean it all, at affordable prices."
If you're looking for cleaning services for manufacturing spaces, this company may be worth a call.
Sentral Services is another big cleaning company, but, unlike Vanguard Cleaning Systems, they're actually headquartered in Maryland, in Kensington.
They've done work with some big clients, including Comcast and George Mason University.
Here's how they explain their cleaning approach:
"We do more than sweep floors. We foster relationships. A good cleaning company tidies up. A great cleaning company exceeds expectations because they understand you and your needs. A premier company focuses on people, internally and externally."
If you're searching for a local cleaning company that has the capacity for large corporate spaces, Sentral is worth considering.
Finally, we'll round out our list with Down to Dust Cleaning Services.
This company is smaller than Sentral Services, and most of the other companies on this list, for that matter. But they have over 10 years of service in Maryland, they have a strong local base (their founders are from Baltimore), and, obviously, they have a great name. The phrase "down to dust" is representative of their approach to service; here's how they describe it:
"Our attention to detail and unsurpassed quality has made us the first and only choice for businesses. We specialize in small and large janitorial services, sanitization, disinfection, window cleaning, floor care and event cleaning."
If you're looking for a hands-on, trusted local service for a smaller commercial space, Down to Dust should be on your list.
Ready to get a quote on commercial cleaning service?
Hopefully, this list is helpful as you search for a commercial cleaning partner. And if you're interested in taking the next step, we'd love to hear from you.
At The Wilburn Company, we've been serving the needs of Maryland businesses for over 20 years. We're confident that we can provide you with the highest quality commercial cleaning services for your facilities.
If you're ready to get a quote for your commercial space, get in touch with us today.