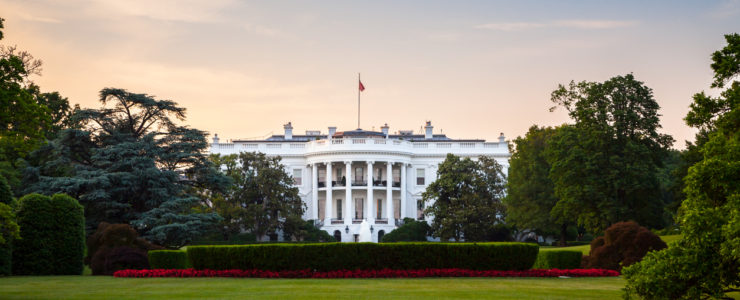 When most people think of the White House, the Pentagon or the National Institute of Health, they think of large machines of government, creating policies, changing laws, and protecting the nation. However, even policymakers need their buildings cleaned. As a government cleaning provider, Wilburn is proud to serve our government officials.
Government cleaning requires a specific set of skills and extremely trustworthy staff. While vacuuming the White House may not require a different technique than vacuuming any other building, it does require a staff that has undergone a security clearance and background investigation.
Here's what's included in our government cleaning services.
Vacuuming
Vacuuming is included in our government cleaning services. As a cleaning provider, we understand the importance of this seemingly simple cleaning procedure. Vacuuming removes dirt, dust, pollen, and other airway irritants before they cause respiratory issues in your staff.
Dusting
Dusting is a detail-oriented service that requires your cleaning provider to look in every nook and cranny to remove the fine layers of dust. Dust comes from both inside and outside. Many D.C. government buildings are located in the heart of the busy, bustling District of Columbia. Dust in these offices can include particles from construction sites, passing cars, and even pollutants. And yes, while dust isn't mostly human skin, it does contain a few particles of dead skin cells.
Damp and Wet Mop Services
Did you know that mopping your floor can actually reduce allergies and prevent scratches? As dust builds up on your office surfaces, it creates a fine grit on your floor that can lead to deep scratches as the dirt gets ground into the surface as many pairs of shoes walk across your floors. Mopping removes every speck of dirt and prevents it from scratching the floors. Also, by mopping frequently you can reduce the number of allergens floating in the air around your office.
Day Porter Services
Think of day porters as the office assistant you never knew you needed. These vital staff members restock restrooms, empty trashcans, and provide lobby maintenance. They can even help with meeting setup and tear down. Day porters are a daytime cleaning provider that discreetly maintains the professional image of your company.
Quality assurance
At the Wilburn Company, we pride ourselves on our offering of high-quality cleaning services that are unmatched in the D.C. area. Part of the reason why we can offer such a top-notch clean is because of our quality assurance program. Our quality assurance program comes included with our government cleaning program.
Our quality assurance program consists of a quality control manager and inspectors who are consistent with one building or set of buildings. These team members work together to review the work of our environmental hygienists and create reports that go all the way up to the VP of Operations. From there, they go on to the President of the company. We believe that our quality assurance program holds us accountable as a cleaning provider and ensures that our customers receive the best clean, no matter who they are.
Secure Cleaning Personnel
It takes a lot of trust for a government building to allow environmental hygienists into their facilities. Many of these high-security buildings handle sensitive and confidential information that could have big consequences if handled inappropriately. Because of this requirement for top-notch security, it is essential that our staff members are secure and trustworthy.
To ensure that only the most-trusted staff members enter a high-security building, all of our teams that provide government cleaning undergo stringent background checks. This also includes clearance processing support and current clearance statuses for each employee.
We believe that you should be able to trust a cleaning provider in your building.
Emergency Response
Unfortunately, government buildings aren't immune to natural. As a matter of fact, government buildings may be a higher target for vandalism or other emergency situations.
Emergencies are messy. Debris needs to be picked up, graffiti could require scrubbing, and water damage leaves behind sludge, mud, and various other materials that should've stayed outdoors. When an emergency occurs, your cleaning provider should be there for the cleanup. That's why we provide emergency response services.
Our environmental hygienists are certified to handle hazardous materials, bloodborne pathogens, and are trained in cleaning emergency situations. When an emergency occurs, focus on solving the situation. We'll take care of the aftermath.
Customizable Packages
Not every building is the same. Not every emergency is the same. If your cleaning provider doesn't offer you customizable government cleaning packages, then it's time to make a change. You deserve to get the services you need. At the Wilburn Company, we offer government cleaning packages that are tailored to you.
If you need services beyond what we've listed here, we're happy to accommodate your needs. We can combine our green cleaning services with our government cleaning program to provide you with high-quality secure cleaning that's also environmentally friendly.
When you're ready for high-quality cleaning tailored to your government building, get in touch with us today.