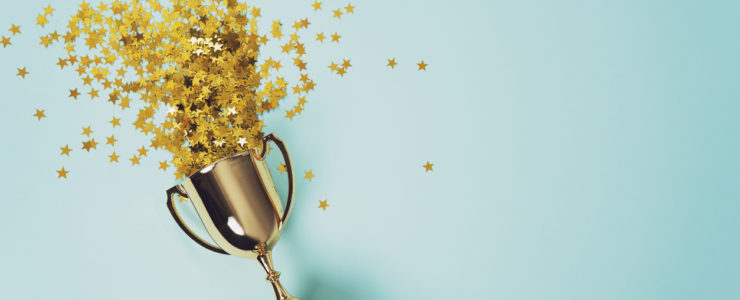 At The Wilburn Company, we believe that our people are our greatest strength.
We have a great team, and we're proud of the good work that our employees do every day to keep buildings safe and healthy through effective cleaning. Sometimes, though, our employees go above and beyond our already-high expectations. To honor this, we're intentional in recognizing our employees, with the hope that, in turn, they're empowered to continue going above and beyond.
Let's take a look at a recent noteworthy event worth to illustrate how employee recognition plays out at our company.
Action Worth Recognizing
On the evening of April 30th, The Wilburn Company employees Rosa and Araceli were performing their normal cleaning services when they were approached by a man who asked to enter a financial institution within their building.
As trained, they denied the man access. He then offered them money to let him in – but they denied him access again. The man grew frustrated and left hurriedly.
Rosa and Araceli, realizing that the situation was serious, went above and beyond to snap a picture of the man's car and license plate as he sped away. They immediately notified their supervisor of the situation and sent her the pictures of the vehicle, allowing our team to notify the proper authorities.
The bottom line is that Rosa and Araceli likely prevented damage to this tenant and its customers by resisting temptation and thinking quickly. We're grateful for the actions of these wonderful ladies!
1. How we empower our employees
One of the reasons that Rosa and Araceli were able to handle the situation so admirably was that they'd received training on how to address scenarios like this one; they knew the protocols around granting after-hours access to facilities, and so they were more easily able to handle the situation when it arose.
Training empowers employees to succeed in everyday activities and in high-stakes scenarios alike.
At The Wilburn Company, we equip all of our employees with comprehensive training around critical performance functions. All employees get foundational training on cleaning procedures, green cleaning training to support cleaning for health, and location-specific training that covers unique elements of each job site.
The end result is that our employees are able to do their jobs well. And when unique situations arise, they're better prepared to go above and beyond.
2. How we recognize our employees
We believe good actions deserve to be affirmed. So, when our employees go above and beyond the typical duties of their role, we ensure that they're recognized.
We do this both internally and externally, depending on the situation and the employees involved.
Internally, we recognize great service in our company newsletter with featured sections dedicated to outstanding employees each month. In many situations, senior leadership will meet with the recognized employees to personally thank them for their service. Sometimes, we'll even offer monetary compensation for admirable actions (which we did for Rosa and Araceli, to make up for the money they left on the table by turning down a bribe!).
We'll also recognize their work publicly according to their preferences and the nature of the service. This is done via published materials and social posts.
Our goal in recognizing our employees is to honor their great work and to offer appreciation where it's deserved. We've quickly found that there's a lot of great work to recognize.
3. How our employees empower our clients
Recognizing the value of our people's work empowers our employees and, as a consequence, it empowers our clients, too.
The bottom line is that our employees are equipped to serve our clients better by knowing that their work is valued. It's that reality that leads to above-and-beyond responses like the one by Rosa and Araceli. For our clients, this quality of service is one more brick in the construction of a brand and business of value, because what happens at the premises of a business reflects on that business.
If Rosa and Araceli hadn't prevented access to that financial institution on the night of April 30th, any resulting damages would have compromised the entire organization's credibility, along with the reputation of the property management firm that leases the building.
Part of our role at The Wilburn Company is to ensure that we support our clients' brands and reputations. We do that through the strength of our people who are empowered by training and recognition.
Choose a Partner That Empowers Your Business
There are two morals to this story. For our clients: your brand matters. You deserve to be supported by people you can trust. For our employees: your work matters. Thank you for doing it well.
Want to learn more about what employee recognition means at The Wilburn Company, and how our employee-focus can impact your cleaning services?
Or, do you want to learn more about what it's like to work for a cleaning company that cares about its people?