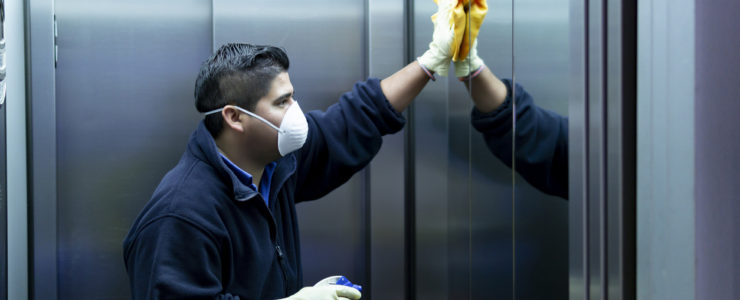 By now, you're probably caught between Covid-19-fatigue and a desire to know what you'll be facing in the coming months, especially when combining the pandemic with flu season!
We get it. We don't want to fatigue you further. And we don't have a crystal ball.
But we do have strategies and plans in place for cleaning our clients' facilities during the coming winter months, and we believe it's important to keep our clients up to date as we continue cleaning for health.
With that in mind, here are four things that you should know about cleaning during the winter of the Covid-19 pandemic and '20/'21 flue season.
1. Sicknesses often surge in the winter.
First, let's take stock of where we're at: It's November, and we're currently experiencing the "second wave" of Covid-19 cases and the beginning of flu season.
The New York Times reports that more than 100,000 new US cases of coronavirus have been reported for eight straight days; John Hopkins notes that Maryland is reporting over 1,700 cases per day, while DC itself has had over 200. This is all up fairly drastically from the numbers that were reported during the summer months – in July, for instance, Maryland had stretches where only 400 daily cases were reported.
The surge is sharp. We are also in the beginning of flue season, in which, last season, we had over 25 million cases alone.
It's not entirely unexpected, though, and it actually aligns with the general fluctuation of viral cases for similar illnesses. Health experts have predicted a winter surge for months. Colder weather causes more people to spend more time indoors, which is where viruses tend to spread the most. We also lack the summer heat that helps kill enveloped viruses such as influenza and Covid-19.
It's important to be aware of that reality.
We will get through this season. But as virus case numbers increase, it's a reminder to take the appropriate precautions.
2. Our cleaning procedures are designed to protect against Covid-19 and influenza.
With that said, we want to reaffirm that our GS-42 cleaning services are continuing this winter. In fact, our procedures are built to effectively combat the Covid-19 virus and influenza viruses (as well as other viruses, germs, and bacteria).
We've upgraded our electrostatic and enhanced cleaning capabilities, so that we can immediately deploy these disinfection tools and technology wherever it's needed. And, as we wrote earlier, we're consistently adhering to CDC guidelines as well as GS-42 Covid-19 disinfection procedures:
For hard surfaces, the CDC recommends, "[Cleaning] using a detergent or soap and water prior to disinfection… For disinfection, most common EPA-registered household disinfectants should be effective."
For porous surfaces (think carpets, drapes, rugs, etc.), the CDC recommends removing visible contamination, then laundering or using EPA-approved suitable products.
Frequently touched surfaces should be cleaned and disinfected often.
Cleaning employees should wear disposable gloves and frequently wash their hands (especially after removing gloves).
At The Wilburn Company, our team is kept continually up-to-date on these cleaning procedures through training sessions, monthly newsletters, interim bulletins and regular Covid-19 updates; we're putting them to use every day in our clients' facilities to keep people safe and healthy.
3. Best practices are still best practices.
Although caseloads are increasing, nothing has fundamentally changed about how the Covid-19 virus is spread. This means that best practices involved in cleaning for health from before the pandemic are still best practices now.
Masks are still recommended
Social distancing of at least six feet is advised.
You should absolutely stay home if you're experiencing any symptoms of illness.
Hand washing is still effective
Regular surface cleaning and disinfection of high-touch areas
Our team is diligently following these protocols, too. While it may seem like the world has changed this year, the reality is that a lot has stayed the same.
So, as we head into the winter months, take care to maintain these standards so that you and your building's occupants can stay healthy.
4. We're in this for the long haul.
Hopefully, the end of the pandemic is in sight; while there are certainly no guarantees and probably no quick fixes, the recent promising trial data from leading vaccine candidates combined with already approved therapeutics and anti-body treatments is legitimate reason for optimism.
But no matter how long the pandemic goes on, you can rest assured that our dedication to quality cleaning will outlast it because it is our normal mode of operation.
This is a challenging season – but it's only a season. We've always cleaned for health, and we always will.
Even before Covid-19, our team was trained to be diligent and effective in cleaning to protect against viruses, germs and bacteria. We're passionate about keeping people and buildings safe and healthy, and we'll continue to stay on the leading edge of cleaning in 2021 and beyond.
Want to talk about your commercial cleaning services?
If you're looking for more insight into how we'll be cleaning during the winter months, or if you have questions about a commercial cleaning engagement with our company, let's talk.
At The Wilburn Company, our mission is to enhance and improve the lives of our employees and our customers. This year, that means tackling Covid-related questions and continuing to provide high quality service throughout this pandemic.
As you continue to navigate the news and the changing ways that work happens, know that we're committed to keeping your building clean and safe this winter, and in the winters to come.