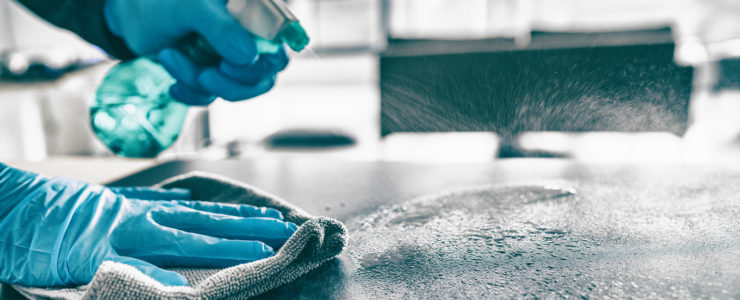 As we move deeper into summer, we're seeing progress in the fight against COVID-19. At The Wilburn Company, we're doing all we can to continue serving our clients well throughout the different stages of this pandemic – and we're grateful to see many of our buildings reopening to occupants.
One component of serving our clients is providing up-to-date information; unsurprisingly, most of the cleaning questions we get these days are COVID-related.
To that end, here are four updates for this month on the COVID-19 situation. As always, consult CDC guidelines for additional information – and if you have questions on how any situation impacts cleaning services, let us know.
1. Maryland COVID numbers are declining, and reopening is progressing.
First, some good news: As Maryland moves ahead with reopening, virtually all of the major metrics associated with COVID-19 cases are decreasing (as of June 16, 2020).
Governor Larry Hogan's office released a statement noting that the percentage of COVID-19 tests in Maryland that come back positive has dropped again, while hospitalizations are at their lowest level in more than two months.
The Baltimore Sun reports that, "The number of patients currently hospitalized has declined for 21 consecutive days, dropping from 1,334 on May 28 to 702 on [June 16th]. Maryland's tally of current hospitalizations has dropped by 59% since peaking at 1,711 on April 30. The number of cases requiring intensive care, 283 as of [June 16th], hasn't risen since June 2."
This comes as most of Maryland works through Phase Two of the Maryland Strong reopening program, allowing for most businesses to reopen at adjusted capacity.
What it means: While this certainly doesn't mean that the pandemic is behind us or that there is no longer any risk, it does mean that we're moving in the right direction in our area. Accordingly, we're seeing more of our clients' buildings reopen to occupants. As we push ahead, our team at Wilburn is doing everything we can to keep buildings clean and occupants safe.
Update (June 29th): While national case numbers are rising with concentrations in areas like Florida and Texas, Maryland's counts remain in decline.
2. The CDC has issued updated information about the transmission of COVID-19 on surfaces.
Next, it's worth noting a bit of helpful information put forth by the CDC near the beginning of this month: Surface-based transmission of COVID-19 appears to be less common than some initially thought.
The organization's recently updated guidelines say that, "Transmission of coronavirus occurs much more commonly through respiratory droplets than through objects and surfaces, like doorknobs, countertops, keyboards, toys, etc."
However, that doesn't mean there's no risk of surface transmission; the guidelines go on to note that, "Current evidence suggests that SARS-CoV-2 may remain viable for hours to days on surfaces made from a variety of materials," before concluding that "cleaning of visibly dirty surfaces followed by disinfection is a best practice measure for prevention of COVID-19 and other viral respiratory illnesses in community settings."
What it means: Again, this doesn't mean that surface transmission doesn't happen. But it is useful in informing personal behaviors. The primary mechanism for COVID-19 transmission appears to be water droplets from the breath of infected individuals. Washing hands, social distancing, and masks can reduce the likelihood of transmission – and, as the CDC notes, cleaning surfaces effectively can help.
3. We're adhering to CDC-recommended guidelines to keep buildings and people safe.
As we wrote last month, we've been following guidance for the entirety of the pandemic and will continue to do so.
Here's a brief summation of some of the key guidelines.
For hard surfaces, the CDC recommends, "[Cleaning] using a detergent or soap and water prior to disinfection… For disinfection, most common EPA-registered household disinfectants should be effective."
For porous surfaces (think carpets, drapes, rugs, etc.), the CDC recommends removing visible contamination, then laundering or using EPA-approved suitable products.
Frequently touched surfaces should be cleaned and disinfected often.
Cleaning employees should wear disposable gloves and frequently wash their hands (especially after removing gloves).
What it means: We're following these recommended guidelines and doing everything in our power to keep buildings clean and people safe.
4. We're available to answer frequently asked questions as occupants return to work.
Finally, while this might not technically qualify as news, we want to make it known that we're ready to answer occupant questions as we move forward in reopening.
To that end, here are a few of the common questions we're asked:
Should I wear a mask?
The CDC recommends that you should wear a cloth face covering to prevent the spread of the virus. This is especially helpful in reducing transmission from people who are asymptomatic. The CDC notes that, "Cloth face coverings provide an extra layer to help prevent respiratory droplets from traveling in the air and onto other people."
When you wear a mask, make sure that it covers your nose and mouth. It's also advised to wash masks after each use.
Should I stay home?
If you are experiencing any symptoms – including a fever, cough, or shortness of breath – then yes, please stay home. It's recommended that employers monitor employee absences and have flexible leave policies and practices.
Will disinfectants kill COVID-19?
Yes, they will. For example, three of our products are hospital-grade disinfectant and have EPA registered kill claims for SARS-associated Coronavirus and Human Coronavirus.
In general, when used correctly, disinfectants kill the virus on surfaces.
Have questions about commercial cleaning services?
Hopefully, this information is helpful as you move forward this month and look to the future.
If you have any questions about cleaning services – including about disinfecting, scheduling service to abide by occupancy guidelines, or procedures and protocols – let us know. We're happy to consult with you.
At The Wilburn Company, our mission is to enhance and improve the lives of our employees and our customers. This year, that means tackling COVID-related questions and continuing to provide high quality service throughout this pandemic. We're striving to lead the commercial cleaning industry in these ways, and we'll continue to do so.
If you're looking for dependable cleaning services that improve the health of your facility, get in touch with us today.