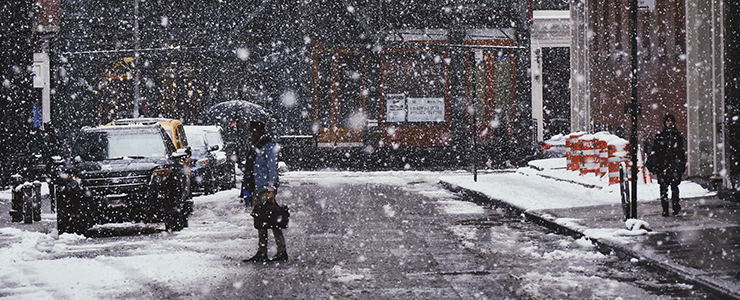 With all of the extra snow, salt, ice, and general slush outside, wintertime is a messy time of year. It can be even harder to keep the mess outside when you have employees and clients walking in and out of your office all day every day. When it comes to wintertime, facility cleaning companies know a trick or two to keep your office clean.
Your cleaning company can't be there every moment of the day. These 5 tips will help you keep the mess from building up when your cleaning service isn't there.
Keep the Ice Salt Outside
Ice salt is used liberally in the wintertime, especially with all of the ice that we tend to get here in Maryland. It's not uncommon to see small piles of it on the sidewalk. But that means when your customers come to your business, they've been walking through ice salt. When customers track ice salt into your office building, there could be serious consequences.
Especially if you have hardwood floors, salt could seriously damage your floors. To prevent stains on your carpets or patches on your floors, regular salt removal is really important. Most facility cleaning companies will pay extra attention to your floors in the winter. It's a good idea to confirm this with your commercial cleaning company. If you only have your cleaning service come once a week or so, now would be the time of year to request floor cleanings more often.
If increasing cleaning frequency isn't an option for your building, ask your cleaning company about scheduling regular buffing, washing, and sealing your floors. The more in-depth cleaning will remove salt and prevent damage from new salt tracked in.
Prevent a Slippery Entryway
All the melting water from tracked-in snow and slush tends to congregate around entryways where customers and employees tend to stomp the water off their boots. This is good, since they're not tracking water all over the office, but it does make for a particularly slippery entryway. It's not like you can put salt down inside your office, so what are you going to do?
Most facility cleaning companies recommend the use of heavy-duty rugs at all entryways and exits in your building. It's even a good idea to keep the rugs on a set rotation. While one rug is soaking up incoming slush, a second dry rug can be waiting in the wings to switch out.
Try setting up wet floor signs in high traffic areas that tend to stay wet to warn customers to be careful. Keep your immediate sidewalk as snow-free as possible to limit the amount of water that comes into your office in the first place.
Avoid Airborne Pathogens
During the winter everyone spends more time inside. Outdoor courtyards where people may work during the summer may not be open anymore due to the cold. That means a more crowded indoor setting, more people breathing the same air, and more dust created. Dust is made up of skin cells, animal dander, sand, dirt, synthetic pollutants, and minerals.
While dust is common in every indoor setting, it can greatly irritate someone's airways with excess pollen and other common irritants. To reduce dust in your office, make sure one of your facility cleaning companies is deep cleaning the corners where dust hides. Most facility cleaning companies use the appropriate equipment to collect dust and not spread it around.
You can also prevent dust from entering your air in the first place by scheduling regular HVAC cleanings. Ducts can be a hidden source of airborne pollutants as they spew dust along with your heated air across your office. If you've recently dealt with a pest infestation, getting your ducts cleaned is extra important. A few stubborn pests may be hiding in your ducts and contributing to pollutants in your office air.
Let in the Sun
The sun has huge health benefits. While you don't want to spend too long out in the sun without sunscreen, the sun is a great source of vitamin D. A lack of sun is also linked to Seasonal Affective Disorder, a type of depression that comes and goes with the seasons, often recurring in the winter.
Check your office building's windows. When was the last time they were cleaned? Grimy windows won't let as much sun into your office, resulting in a gloomier atmosphere. The sun also has cleaning benefits. It can dry out carpets which may be damp from snowy boots and prevent mold from growing.
Most facility cleaning companies provide regular window cleanings. Check and see if they'll clean both the inside and outside of any window. If your business operates out of a particularly tall building, like a skyscraper, you may need to use a specialist cleaning service.
Use Green Cleaning Methods
With more of your employees spending time inside, you want to be sure that you're contributing to the health of your office with your commercial cleaning company's products. Some facility cleaning companies use products that contain volatile organic compounds that can linger in the air and cause respiratory issues, headaches, and overall decreased health.
Green cleaning methods use less water, fewer chemicals, and still give you the same great clean. You've just had your ducts cleaned and increased dusting to create better indoor air quality in your office. There's no point in doing any of that if you're going to use cleaning products with VOCs in them. You'll just be reducing your indoor air quality to the same or even worse than it was before you cleaned your ducts.
Wintertime Doesn't Have to Be All Bad
When you choose one of the facility cleaning companies that can accommodate your wintertime cleaning needs, you'll notice a large increase in cleanliness in your office space. Using heavier rugs at all entryways, improving indoor air quality, and keeping your office clear of water and ice salt can not only create a great employee and customer experience this winter, but can also protect your floors and carpets for winters to come.
The Wilburn Company prides itself on its ability to accommodate the needs of all of our clients, no matter the season. As a leading commercial cleaning and government cleaning company in the Maryland and Virginia area, we're here to serve you with our expertise. Whether you have questions about the wintertime cleaning needs of your facility, the services we offer, or more, we'd love to hear from you.