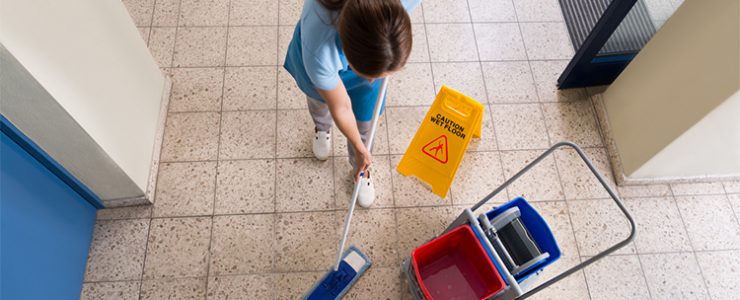 Whether you call them janitors, custodians, maintenance workers, or simply cleaners, the people who clean and maintain our offices, hospitals, schools, churches, and shops are sometimes taken for granted, but being a janitor is nevertheless vital to our overall health and well being.
In this article, we'd like to take the time to explain what the janitorial profession really means – and why janitorial work is so important. Here's what it really means to be a janitor.
Being a Janitor Means Keeping a Building Clean
When people think of janitors, this is probably the first purpose that comes to mind.
There are multiple reasons why having a clean office is important. Office staff need and deserve to work in a clean environment, and an office's cleanliness or filthiness reflects a lot about a business. Professional cleaners make sure nothing is left unsanitary.
Janitors are skilled in properly cleaning, dusting, and sanitizing work environments. There is so much more to keeping a place clean than simply making sure everything is orderly. These experts know what to do in order to ensure a clean environment.
Being a Janitor Means Helping Organizations Thrive
On top of that, janitors have the ability to increase morale in any work environment. Office workers weren't hired to clean bathrooms, empty the trash, etc. These workers should focus on what they were hired to do and leave the cleaning to the experts.
Just how important are janitors to helping organizations thrive? Let's take a look.
Using green cleaning, a public school in Syracuse, NY, saw attendance increase 11.7 percent, which resulted in $2.5 million in attendance-based funding to the school.
At a military academy in Gainesville, Ga., replacing 20 different cleaning products with a single Green Seal-certified product to clean 270 dorm rooms and 100 bathrooms saved the academy $280,000 annually.
When janitors keep a building in optimal condition, they help its occupants to do their jobs or learn to the best of their abilities. They're also able to save companies money in the process.
Being a Janitor Means Keeping People Healthy
Included in work morale, having a clean environment also leads to a healthy environment. Professional cleaners make sure to dust and clean thoroughly, leaving offices with minimal allergens. When offices are clean and sanitized, those working in the office are less likely to get sick. When workers are sick, there is always a loss in production or output. Janitors make sure these things are kept to a minimum.
Professional cleaners also ensure certain products are kept on hand, such as paper towels in the restroom, as well as toilet paper. Business owners can easily overlook things like this given their other responsibilities. Janitors make sure these needs are constantly met.
Being a Janitor Means Being a Skilled Worker
While some might see the profession as a low-level job, in reality, many cleaning service professionals receive certifications to not only be better at what they do, but to stand out in their field.
At the Wilburn Company, we're proud of our employees, and we encourage their development through the following certifications:
IEHA's Executive Housekeeper certification – This title requires taking classes, being tested, and keeping up-to-date with current information. Executive housekeepers supervise other employees who clean and maintain the rooms in homes, apartments, and hotels. They are generally more experienced and oversee the housekeeping and laundry services in a home or commercial establishment. The executive manages a staff which performs domestic jobs such as washing, dusting, polishing, and generally keeping things clean and neat.
Certified Building Service Executive – Less than 1 percent of professionals have achieved this certification. It involves working through seven volumes of information – such as law, accounting, insurance, taxes, customer service, and safety – and focuses on green cleaning.
Hospitality Housekeeping Executive – Finally, there's the certification to become a hospitality housekeeping executive. This certification identifies the recipient as being part of an elite group of hospitality professionals who, by combining education and experience with dedication to the industry, have achieved a high level of expertise.
We're Proud of Our Janitorial Employees
Here at The Wilburn Company, we take a lot of pride in our janitorial staff. Our team is continually trained on the benefits of safety, green cleaning, environmentally-friendly service practices, and most important, that customer service is a priority. We have a robust training regime that includes motivational classes for leaders, extra skills training for motivated staff members, and annual training that is continually seeking to improve our services.
And, most importantly – our employees do great work all throughout the Maryland and DC-areas. They're the reason we're able to clean and maintain over 8 million square feet at a high level.
To honor them, we're going to be featuring some of The Wilburn Company's finest on our blog and in our newsletter. So, keep an eye out for profile articles on our great employees over the next several months.
Want to learn more about what being a janitor means at The Wilburn Company – or more about how our janitorial services can help you? Get in touch with us online or at 410-789-3320.