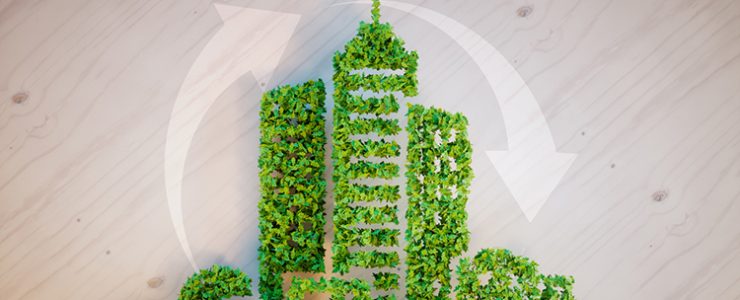 If you're in the business of facility management in Maryland, chances are good that you've heard the term "green cleaning" used before. And, if you've looked into commercial cleaning services at any time over the past five years, the chances are nearly one hundred percent that you've heard of green cleaning.
That's because the rise of green cleaning in Maryland is one of the biggest janitorial trends of the past decade. And, as companies and consumers become increasingly environmentally conscious, it doesn't appear destined to fade anytime soon.
That's a good thing. But what, exactly, does green cleaning really mean?
What is Green Cleaning in Maryland?
Green cleaning is cleaning in a way that protects human health without harming the environment.
This is most clearly measured in the context of comparison. If the products that cleaners use have a lesser effect on human health and the environment than competing products and services, they're considered "green". The same goes for cleaning techniques. There are a variety of organizations that provide the "green" certification for products and services, including the EPA and Green Seal, Inc.
Often, the connotation of green cleaning is that its primary benefit is its minimal impact on the environment. While that's certainly true, an equally impactful benefit of green cleaning is its positive impact on the health of building occupants. Green cleaning means more efficient use of chemicals, cleaning solutions, and more efficient maintenance of building environments – and while that's certainly good for the environment, it's also good for the people who occupy the building.
Components of Green Cleaning in Maryland
So, green cleaning in Maryland is a good thing. But what exactly does a green cleaning system look like?
Well, from a technical perspective, green cleaning really means adherence to the guidelines of a certified system. At The Wilburn Company, we're proud to adhere to the GS-42 Green Seal standard for commercial and institutional cleaning services.
There are many components to this system, but in an effort at understanding what adherence means, let's take a look at four of its main parts.
1. Green Cleaning Products
When you hear the term "green cleaning", your mind likely goes first to the environmental friendliness of the products being used. It makes sense; historically, cleaning products haven't always been friendly to the environment nor to the health of the janitors or building occupants. When you hear about health and environmental hazards, it's easy enough to visualize some toxic solution being inhaled or making its way down a drain and into a river to wreak havoc.
Today, though, there are a plethora of products that have a minimal impact on the environment. Green cleaning, from a product perspective, comes down to choosing the right products that effectively clean for the specific task while having a minimal effect of people's health and the environment.
That means that, when it comes to general-purpose cleaners, floor cleaners, bathroom cleaners, glass cleaners, and even products like hand soap, toilet and facial tissue, and paper towels and napkins, we always opt for products that are safe and environmentally preferable.
2. Green Cleaning Procedures
Using environmentally friendly products is just the first step in green cleaning, though. Just as important as the products are the procedures and techniques that are used during the cleaning processes.
Green cleaning procedures are designed to be safe, effective, and to reduce the waste of cleaning materials where appropriate. There's a green cleaning technique to every cleaning task, but here are three examples of green cleaning procedures as a demonstration of the general principles.
Cleaning procedures will be performed within the guidelines of the GS-42 Standard and recognized procedures for healthy cleaning. The cleaning company will maintain a current and updated procedure manual specific to the needs of DMV. A copy of the manual will be made available to appropriate members of DMV Management and conveniently accessible to assigned employees within the cleaning company.
Cleaning products, equipment supplies and materials shall be purchased, used and disposed of with the intent to reduce waste, increase efficiencies, and minimize the impact of waste to the environment.
Cleaning chemicals will be diluted from a concentrate, whenever possible, utilizing a dilution control system to provide proper dilution and employee safety.
As a general rule of thumb, green cleaning procedures are more efficient and provide a safer environment for building occupants while minimizing waste.
3. Maintenance and Use Plan for Powered Equipment
Additionally, green cleaning in Maryland includes having in place a structured plan for the use and maintenance of powered equipment.
This plan will include procedures and use of equipment designed to effectively
reduce contaminants within the building and with minimal impact to the environment.
Vacuum cleaners will meet Carpet and Rug Institute (CRI) requirements for green cleaning.
Powered floor maintenance equipment, vacuums, burnishers, polishers, will be able to control noise levels at less than 70dBA and capture and collect particulate generated during cleaning and maintenance procedures.
All new propane and powered equipment will have a low emissions certification and be equipped to operate within the GS-42 standard sections 3.3 and 5.5. This includes floor burnishers, scrubbers, steam extractors, vacuum cleaners and power washers. All existing equipment used will be brought to the minimum standards in GS-42 or replaced.
4. Communications and Training for Green Cleaning
Of course, compliance with green cleaning products and procedures is impossible if employees aren't properly trained. That's why communication and training is the final essential component of green cleaning.
Training involves several components:
Initial training, where upon hiring, personnel receive instruction on standard operating procedures, the use of standard equipment, and the proper sequence of cleaning activities.
Safety training, where employees are trained to reduce and prevent injuries and exposure to hazardous materials.
Site-specific training, which provides specific instructions based upon the individual sites and facilities being cleaned.
Continued training, which is provided upon an annual basis to ensure that personnel stay up to date on the latest cleaning and green cleaning techniques.
At The Wilburn Company, we take a lot of pride in our employees, and we know that providing them with the best training available is beneficial for them and the facilities that they serve.
Next Steps for Green Cleaning in Maryland
So, there you have it: four components that are essential in a green cleaning system. Hopefully, this information has given you little bit more clarity as to what green cleaning actually entails.
If you're interested in learning more about green cleaning services, or if you're ready to implement green cleaning in your facility, we'd love to hear from you. Get in touch with us online, or at 410.789.3320 for a discussion around your green cleaning needs.