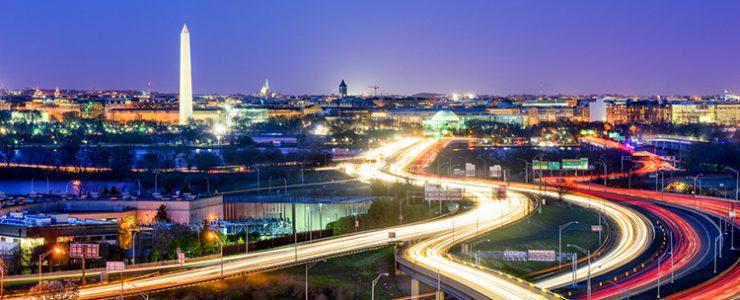 The Washington, D.C. area has a unique office culture. The fast-paced, constantly changing style of DC politics has bred a similarly paced corporate culture in the surrounding area.
For all of the change, though, there's one thing that remains the same: there's always cleaning to be done.
At The Wilburn Company, we've spent nearly two decades providing commercial cleaning services in DC. Throughout that time we've learned that, regardless of political trends, there are always upper shelves that need to be dusted and carpet that needs to be cleaned. And our longevity extends to our employees: our supervisors average ten years in service, so they're in town longer than political administrations.
Simply put, we understand commercial cleaning services in DC, and we understand how to serve commercial facilities. Based on that experience, here are the questions to ask when choosing commercial cleaning services in DC.
Which commercial cleaning services does my facility need?
Obviously, this will vary depending upon the nature of your facility, but this is one of the most important questions for facility managers to consider. Here are a few things to consider:
What is the square footage of your facility? Larger facilities require different procedures than smaller facilities.
What type of flooring does your facility have? If you have carpet, for example, you'll need commercial carpet cleaning, while if you have wood or tile flooring, you'll need regular dusting and mopping.
What levels of foot traffic do you have in your facility? Facilities with higher traffic tend to require more frequent cleaning and different solutions to maintain cleanliness, like walk-off matting.
How much waste does your facility produce? This will impact the waste removal services you'll require.
How many windows does your facility have? This will impact the amount and frequency of glass cleaning necessary.
Of course, choosing cleaning services will be greatly informed by the commercial cleaning company's recommendations – and those are informed based on their experience.
What kind of experience does the commercial cleaning company have?
In DC politics, experience can be seen as a good or bad thing. In the commercial cleaning industry, though, experience is only good. You want to know that your commercial cleaning services are based upon a system that has demonstrated proven results. With that in mind, here are a few things to look for in terms of experience when choosing commercial cleaning services.
How long has the company been in business?
Does the company have previous experience cleaning facilities that are similar to yours?
Does the company have good reviews and testimonials online?
Will the commercial cleaning company provide you with references?
If all of these questions are answered in the affirmative, then there's a good chance that you're looking a commercial cleaning service that may be right for you.
What kind of training does the commercial cleaning company provide to its employees?
Most companies that have stood the test of time will have done so based on the strength of their employees. Employee training, then, is a huge factor in the quality of commercial cleaning services, so be sure to consider it when choosing services for your facility.
At The Wilburn Company, we take a lot of pride in our employees. We ensure that they receive premier training so that they're able to provide high quality service in a safe and efficient way.
When you're choosing a commercial cleaning service in DC, make sure that the company you're considering can point proudly to their training program.
Will the commercial cleaning services be environmentally friendly, or green?
The trend towards environmental friendliness has much of its roots in Washington, DC-based activism – and that means that green cleaning in DC is essential for many facilities.
At The Wilburn Company, we believe that, all other factors being equal, tenants will always choose a green cleaned building over the alternative. To provide that benefit to our clients, we ensure that all of our cleaning staff members are trained using GS-42 standards, and green cleaning practices are encouraged from the top down.
Check whether or not the commercial cleaning services you're considering are certifiably green.
Can you trust the company and the commercial cleaning services in DC they provide?
Finally, perhaps the ultimate factor in choosing commercial cleaning services is the level of trust you can have in your cleaning company. If you trust your company and their commercial cleaning services, you can trust that they'll recommend the best cleaning procedures for your facility, and that they'll carry those procedures out in a way that gets the job done right.
Having spent nearly twenty years in DC, we know that trust is hard to come by. It takes a consistent commitment to doing things the right way.
Still Need Help Choosing Commercial Cleaning Services in DC?
At The Wilburn Company, we've been honored to provide commercial cleaning services in DC for nearly two decades, and we're proud of our reputation as a premier cleaning company. Our goal is to continually earn the trust of our clients by providing cleanliness consistently – and we believe that our excellent employees, optimized systems, and deep experience in the area and industry allow us to do that.
We'd love to hear from you. Get in touch with us online, or at 410-789-3320.