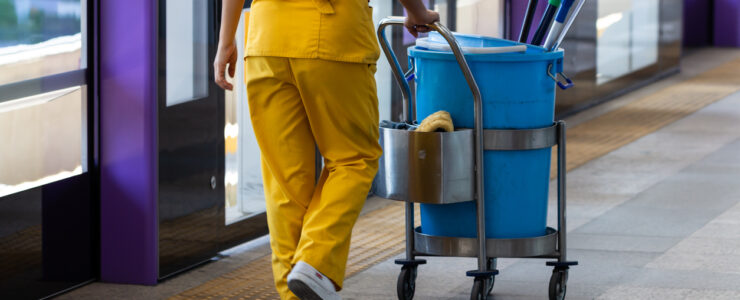 Finding the right commercial cleaning service for your company or corporation can be challenging. You want the right fit that meets your standards for cleanliness and health.
With that in mind, we've put together a list of the seven top options based on our 20+ years of experience in serving the Maryland area.
It is very likely this will help your business find a service well-suited to your needs.
Is this biased? Yes. Is it true? Yes. We have good reason to be proud of our work.
At The Wilburn Company, we provide commercial cleaning for corporate offices, high-security government facilities, and real estate investment trusts across Maryland and the DC area.
What sets us apart:
Our people are awesome. That's not just fluff. Check out featured articles on some of our individual employees here, here, and here, and you'll quickly identify a common theme – our people rock.
We were the first GS-42-certified cleaning company in Maryland. Others have followed suit, but the bottom line is that we're experts in green cleaning. That can have huge benefits for the safety of your building occupants, and it can even give you tax breaks.
We care a ton about communication. We've invested in an easy-to-use app and a robust performance management staff so that you can rest assured cleaning services are happening the way you need them to be.
The bottom line is that we offer quality commercial cleaning services that keep buildings safe and their occupants healthy.
You can request a quote for your commercial spaces here.
Commercially Clean is an aptly named company located in Owings Mills, Maryland. They offer services in Carroll County, Howard County, Montgomery County, Frederick County, and Baltimore County.
They're something of a generalist meaning they don't have a specific industry focus or a differentiated cleaning approach.
Here's how they explain their services:
"We are locally owned and operated. No franchise here. When you call us you are most likely going to speak with one of our owners who can answer all of your questions. Not to mention, the money you spend with us goes back into your community."
If you're looking for a boutique cleaning company where you can quickly reach the owner, Commercially Clean is worth considering.
Unlike the locally owned and operated Commercially Clean above, this company is all about franchising with over 2500 units across the country!
While they have locations in cities all over, their MD office is in Laurel which services the Maryland-DC Metro, Baltimore, and Annapolis area.
They describe their services as:
"Stratus Building Solutions provides environmentally friendly commercial cleaning services driven by small business owners and regional support centers across North America."
Some highlights of their offerings include a focus on Green Cleaning and the ability to service an extensive number of industries. If you want to work with a company that has extensive experience and specialized services, consider Stratus Building Solutions.
Not to be confused with the previously mentioned Commercially Clean LLC., Commercial Cleaning, Inc. is another Maryland janitorial company. They focus on serving the Greater Baltimore areas, including Baltimore County, Harford County, Howard County, and more.
They are also a bit of a generalist – here's how they put it on their homepage:
"Commercial Cleaning Inc. is locally owned and operated, and we are ready to get your business sparkling clean. From warehouses to manufacturing plants to office buildings and medical facilities, we clean it all, at affordable prices."
If you're looking for a cleaning service for your manufacturing spaces, this company may be worth a call.
This company is like our number 3 pick– they're a huge franchise operation, with independently owned janitorial businesses in cities across Maryland, including Annapolis and Baltimore.
They've been around since 1984. And although they have franchises located in states across the US; the brand is actually based out of California. Their focus on electrostatic disinfection and green cleaning is worth noting.
Here's how they explain their commercial cleaning approach:
"Vanguard Cleaning Systems® janitorial franchise businesses deliver high-quality, consistent commercial cleaning services to over 18,000 satisfied customers throughout the U.S. and Canada."
If you want a high-touch, well-established cleaning service, check out Vanguard Cleaning Systems.
With nearly 200 locations in-state, Interworld Cleaning is certainly a Maryland-based company. This cleaning service was founded in 2009 and details an attention-grabbing guarantee on their site.
This is what Interworld promises its customers;
"If any of our work doesn't match our promised quality, call us within 24 hours and we will re-clean it absolutely free of charge.
Unlike other companies that would lure you into a contract with a verbal guarantee, our customer satisfaction policy is written and documented in every single proposal that we send you."
They also promise a 24/7/365 response time and have worked with some big clients including Walmart, Kohls, and Penske.
If you want to work with an around-the-clock, easily accessible cleaning service, Interworld Cleaning might be worth your time.
This company offers recurring services and franchising opportunities in the U.S. and internationally. Their MD location is in Baltimore.
They are also more general in the industries they serve, but they do rely on advanced technology techniques like HEPA filter vacuums and their EnviroShield® disinfecting system.
Here's how they explain their services.
"At JAN-PRO of Baltimore, every aspect of the service we provide is guided by the JAN-PRO Signature Clean® program, ensuring you receive consistent results that are always in line with the rigorous standards of the JAN-PRO brand.
The Signature Clean® program also covers our stringent quality standards and adherence to only the best customer service protocol, including customized cleaning plans and a customer-driven approach to cleaning and communication."
If you're looking for a tech-savvy commercial cleaning solution with a locked-in process, consider Jan-Pro Cleaning Company.
Ready to get a quote on a commercial cleaning service in Maryland?
Hopefully, this list aids you in your search for a commercial cleaning partner. And if you're interested in taking the next step, we'd love to hear from you.
At The Wilburn Company, we've been serving the needs of Maryland businesses for over 20 years. We're confident that we can provide you with the highest quality commercial cleaning services for your facilities.If you're ready to get a quote for your commercial space, get in touch with us today.