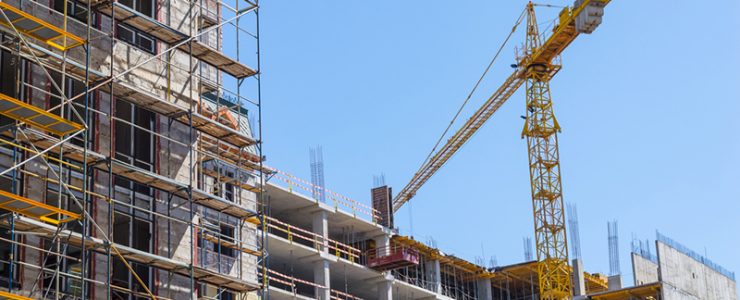 There are certainly a lot of things to think about when opening a new construction site in DC – and it's important to think of everything. After all, whether the facility is brand new or is being renovated for a new tenant fit-out, what makes a successful construction project stand out is an attention to detail. When the details are taken care of, the process tends to run smoothly for both the short and the long term.
Hiring a knowledgeable janitorial company is one way to make sure that maintenance details are taken care of.
With that in mind, here are five important details that a good commercial cleaning company will pay attention to – and that you shouldn't have to worry about.
1. Ensure that the space is prepared for future maintenance
A good cleaning company will ensure that the new space is properly prepared for the new tenants so that future maintenance will be efficient. There are many aspects to this, but here are a few to keep in mind:
Securing and adhering to the maintenance specs for the flooring that's installed. Improper care of new flooring can void the manufacturer's warranty.
Providing cleaning recommendations and proper guidelines for the space based on projected occupancy usage and foot traffic.
Securing and providing appropriate warranties for all cleanable services as applicable.
Developing a proper Performance Measurement & Management Program based on the customer's goals.
This is some of the detail that will set up the facility and its tenants for long-term success – and that will help new tenants to rest easy.
2. Detail cleaning
There's a lot of cleaning to be done during the construction process. Much of this is obvious – cleaning up large items, trash, and other visible messes. The truly excellent custodial companies, though, will pay close attention to detail cleaning.
For instance, in many new constructions, there are high areas, corners, or edges that may go undusted. Neglecting these details may not be obvious at first, but eventually, the dirt and dust in obscure spots will get blown around. At best, that will be discomfiting to tenants, and at worst, it can damage equipment in the facility. An excellent custodial company will do the detail cleaning to make sure that doesn't happen.
3. Duct cleaning
During many construction processes, companies will run building HVAC systems for ventilation or testing purposes. This can often result in dust and dirt being sucked into the ducts, air diffusers, and filters.
A thorough commercial cleaning company will take the time to make sure that HVAC components are properly cleaned for incoming tenants, so that dust and dirt don't contaminate the facility and air quality.
4. Walk-off matting system
Ensuring that a walk-off matting system is in place is another detail that the best commercial cleaners won't miss. A new construction is a valuable asset, and like any other asset, it should be protected. Walk-off matting is a good way to ensure that new floors stay new for as long as possible.
A good janitorial company will consider what type of traffic is coming through different areas, and make sure that walk-off matting is set up to catch as much dirt as possible.
5. Ready for recycling and sustainability programs.
Finally, setting up a new facility for sustainable maintenance procedures is another hallmark of an excellent cleaning company. There should be a recycling program in place for the new facility, with receptacles placed appropriately throughout the building, and a contractor ready to carry the program out. Additionally, green cleaning products should be used for maintenance purposes.
Remember, sustainability and environmental friendliness matter. When potential tenants are brought in, having a sustainable facility ecosystem is an impressive selling point. If all other factors are identical, tenants will always choose a green facility over the alternative.
The best commercial cleaning companies prepare with sustainability and eco-friendliness in mind.
Next Steps
Opening a new facility in DC is a process that requires attention to detail. With so many details to consider, make sure you choose a cleaning company that will cover the maintenance details for you.
At The Wilburn Company, we have decades of expertise, proven Performance Measurement and Management processes, and a staff dedicated to excellence. Simply put, we pay attention to all of the details so that you don't have to.
Opening a new facility? We can help you make sure that your new construction opens as efficiently as possible. Get in touch with us online or at 410.789.3320.