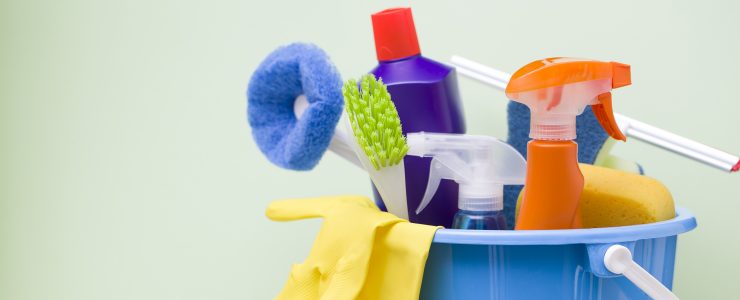 Today, It's a Lot Easier for Your Company to Be "Green"
There appear to be two camps when it comes to green cleaning and green cleaning products – one that believes that green cleaning is great, helps the environment, etc., and one that believes that green cleaning is not as effective, costs more, and is mostly just a little bit of soap in a lot of water.
Today, green cleaning isn't just about the environment. The focus isn't just on being safe for Earth, it's also on being safe for people, families, pets, and pretty much any living thing. Green cleaning is about cleaning for health as well as the sustainability with nature and people. From the manufacturer to the user, green cleaning means safe cleaning – and today's green cleaning products reflect that.
To understand what green cleaning products are, let's start by dispelling some of the myths.
Green Cleaning Products Are More Expensive Than Regular Cleaning Products
Thanks to advances in chemistry and recognizing and eliminating harmful, harsh chemicals, the overall cost of green cleaning products, as opposed to regular, house-brand cleaners, is actually quite comparable.
Some manufacturers have created a banned list of chemicals in efforts to create cleaners that are greener. Because of this, as well as adding safer cleaning agents, manufacturers are able to bring the costs down, which is even better news for your company.
Speaking of your company, using green cleaning products can help in other ways. Cleaning in an environmentally sound way reduces the risk of sick days for employees and the risk of fires and chemical spills. All of that adds up to more savings for your business, but more on that later.
Green Cleaning Products Don't Work as Well as Regular Cleaning Products
Most green cleaning products, especially those made for industrial cleaning, go through a process to pick up Green Seal certification.
Green Seal, an independent non-profit organization dedicated to safeguarding the environment, provides science-based environmental certification standards that are credible and transparent to help manufacturers, purchasers, and consumers make responsible choices that positively impact business behavior and improve quality of life.
Thousands of products and services in hundreds of different categories have been certified to meet Green Seal standards. To have your product Green Seal certified, it has to go through a process that ensures that it meets rigorous performance, health, and environmental criteria.
Essentially, the green product has to do as well as a non-green product.
Green Cleaning Products Are "Just a Trend"
When a commercial cleaning service uses green products, they are committing to more than just becoming part of the latest trend.
Green cleaners are also taking steps to create healthy and eco-friendly policies and to properly train their employees on green cleaning techniques and practices. This commitment is important because of the overall positive impact of green cleaning.
When office cleaners use traditional cleaning products, the chemicals from those products can leach into the environment either through aerosol sprays or through the water when the cleansers are flushed.
Once this happens, it can contribute to air pollution or it may enter the water system and harm aquatic life or alter the chemical balance of the water. More and more, office cleaning services are recognizing that their efforts can make a significant contribution to the health of the environment and that by becoming green cleaners they are providing a valuable and increasingly popular service for businesses like yours.
"What are the benefits of using a green commercial cleaning company?"
To recap, there are a number of reasons why your business should consider turning to a green cleaning service to meet your need for professional commercial cleaning.  And, honestly, most of them have to do with the harmful effects of traditional or "regular" cleaning products.
Traditional cleaners that are not green cleaners can be the potential cause of problems such as irritation of the eyes, skin, or lungs – and they could eventually lead to diseases or conditions. The severities of these risks are dependent upon the type of building or workplace, and on how long staff occupies the building.
For example, people who work in hospitals are exposed to these cleaning chemicals for longer durations of time because they tend to work longer hours. In addition to improving the health of employees, green cleaning products create a healthier environment for customers as well.
By using a commercial cleaning service that specializes in green cleaning, you are not only providing a healthy place of employment, but you are also contributing to the productivity of your staff by reducing their risk of getting sick. Green cleaners that provide healthy and environmentally friendly office cleaning services and use green products greatly reduce allergy symptoms and reactions to cleaning chemicals.
Ensure That Green Products Are Used in Your Facility
When choosing a green cleaning service in Maryland or the DC-area, you should keep several things in mind. Naturally, they should be a service that does a thorough job in cleaning your business. A company that cleans for health first and appearance second. They should also have clear "green" policies in place. Green cleaning supplies should not suffer when it comes to quality and nor should the cleanliness of your office. Additionally, using a janitorial service that has gone green should not increase your cost of hiring a commercial cleaning service.
The Wilburn Company focuses on environmentally-friendly commercial cleaning; Cleaning for health is our primary focus.  All of our cleaning staff are trained using GS-42 standards and encouraged to use environmentally conscious policies that our leaders support. These efforts to train and support our cleaning staff provide our customers with a safer and healthier indoor work environment.
Want to learn more about how we clean for health? Contact us today to talk about how our green cleaning practices can help you.