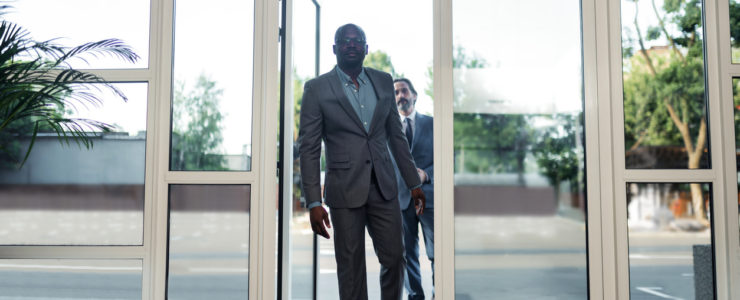 During this pandemic, most of the country has been working from home. But, as summer approaches, businesses are getting ready to come back to work. This will take strategy and teamwork to do safely.
At The Wilburn Company, those are two things we're deeply familiar with.
We've been keeping buildings clean and safe for decades – including during the last few months. As the world moves toward reopening, we're well prepared to take our efforts to the next level to keep people healthy.
With that in mind, here's how we've approached cleaning in the time of coronavirus – and how we're staying on the leading edge of sanitation as buildings prepare to reopen.
A Quick Reminder: COVID-19 Can Be Killed on Surfaces
First, let's quickly note this important fact: COVID-19 can easily be killed through cleaning and disinfecting protocols. It is an enveloped virus, which means that it needs a protective bubble around it to survive. The bubble can be destroyed with detergents, disinfectants, and heat exposure, which makes COVID-19 very easy to kill on surfaces (and yes, green cleaning products are effective).
This reinforces the importance of regular cleaning and disinfecting.
How We're Keeping Buildings Safe
With that in mind, as occupants get ready to come back, here's what we have done and are doing to keep things safe and clean.
First, throughout the entirety of this pandemic, we've been cleaning and disinfecting our clients' facilities to the top standards of health. Suites that closed received a final clean and a touch point disinfection of common areas. Suites that remained open have been cleaned on a regular basis, with daily touch point disinfection added to all programs.
As we look ahead to more people returning to offices, we're conducting performance audits within every facility, to ensure that, from a cleanliness and a health perspective, things are 100% ready for occupants to return.
How You Can Help
While we're proud of the efforts our employees and clients have put forth to keep facilities clean and safe, the job is far from over. This pandemic has changed the way we will view sickness forever, and in turn will change how companies and employees treat sickness in the workplace. Here's what different parties can do to help.
Employees: If you are sick, stay home. Don't be a hero. Coming into work sick – even if your symptoms are mild – can get others sick. Stay home and stay safe.
Employers: Don't pressure employees to come into the office when they're feeling sick. Have grace and wisdom, and don't put people's health at risk.
Everyone: Practice good hygiene! You've heard all of this before, but that's because it's so important: Wash hands for 20 seconds with soap and warm water. If you can't wash your hands, use sanitizer. And please, as much as you can, try to refrain from touching your face.
Remember, the best approach is to follow the CDC's guidelines to protect yourself and others.
How We'll Move Forward
Finally, even when most of our buildings' occupants are back in their offices, things will be different. COVID-19 has changed the face of cleaning forever. At The Wilburn Company, we intend to be thought leaders and trusted advisors as the industry moves forward.
We're doing that through things like:
Specialized disinfection services. We can offer our clients various methods of service delivery (including via new electrostatic equipment). These services are available with standardized pricing.
Revised Statements of Work. We're developing the standards that we feel will be necessary to ensure everyone's health and safety in the post COVID-19 era.
Disinfection Certification program for cleaners. Finally, we're working with cleaning industry expert Marion Stecklow of the Mercain Group to develop a new training program that will equip cleaners on best practices and prepare them for the crucial work of environmental hygiene.
We'll Get There. Together.
The world is different, but work is reopening. As a team, we've made your workspace safe and healthy for your return. The safety of all involved – our employees, building occupants, and, of course, everyone's families – is our top priority now and into the future.
We have always cleaned for health. Today, cleaning for health has never been more important.
If you're a current client with questions about your facility, don't hesitate to reach out as we navigate the way forward. If you aren't a current client – and if your facility could benefit from our high standards of health, cleanliness, and service – we'd love to have a discussion about how we can serve you.
The pandemic is challenging, but progress is happening. It truly is a time for calm and common sense… and a smile!