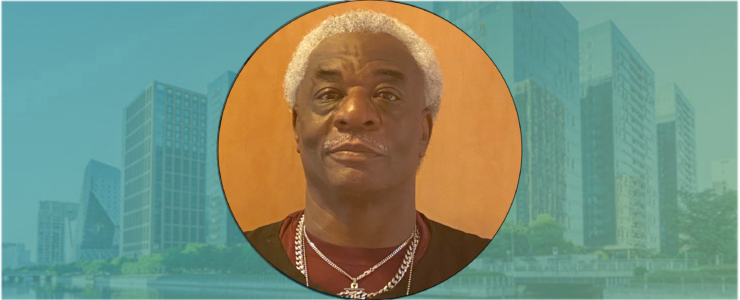 For Ernest Smith, doing an exceptional job cleaning for Wilburn's clients is just another night at the office. Literally.
This experienced cleaning professional also works another daytime job, but spends his evenings working with our night cleaning crew.
Ernest came to us just over 2 years ago after seeing an advertisement in the newspaper. He was interested in part-time or night work, so he applied.
We're so pleased he found our ad and came to our family.
Although he worked a job as a medical transportation driver before coming to Wilburn, he's been working in the cleaning industry for over 25 years, so he knows a thing or two about getting the job done right.
"What I've been doing for Wilburn, I've basically been doing my whole life," Ernest remarks. "I'm very used to it."
He's used his extensive knowledge of commercial cleaning to do exceptional work at Wilburn.
Night to Night
Ernest works in two large office buildings. He is responsible for cleaning multiple floors, including the bathrooms, kitchens, hallways, and windows. Ernest explains that he has a checklist that he must follow to ensure that all areas are clean and in order.
He also notes that he and his supervisors must keep tabs on the quality of his work, as part of his performance management.
Quality assurance and constant improvement are foundational elements of The Wilburn Company's approach to commercial cleaning.
This can be challenging at times, particularly when he must cover for fellow employees who have called out sick. However, Ernest is always up for a challenge.
In addition to his regular cleaning duties, he takes special care of building walkways during the winter months by salting sidewalks and entranceways to make sure they are safe for employees and visitors. All in a night's work for Ernest!
This going-the-extra-mile attitude has not gone unnoticed by the clients Ernest cleans for.
The property management team of one of the buildings Ernest works in complimented him by saying, "He has improved the quality of cleaning, not only inside the building, but outside as well. Ernest cleans the walkway coming into the building to give a better representation of the inside."
The chief-of-staff in that building commented that "the area that Ernest is responsible for has never looked better. The entire area looks, smells, and even feels cleaner and healthier."
Ernest's careful dedication is just one of the reasons he is valued at Wilburn.
Grateful For His Position
Ernest said that he enjoys his job mainly because of the people he works with. "The people are very nice, and my boss is kind." He added, "It's just a nice environment to work in."
He expressed praise for his supervisor, Luke Raymond, saying he is a great boss. "He's a very decent man."
After many years in the cleaning industry, Ernest says the Wilburn company does things a little differently than other companies. "They really appreciate your work; not all companies do that."
He also said he is proud to work for an employer that has a green cleaning focus. For Wilburn, maintaining our Green Seal GS-42 certification and adhering to stringent green cleaning guidelines wouldn't be possible without employees like Ernest.
Luke Raymond, Ernest's Wilburn Supervisor, expressed his own appreciation for his team member's job performance.
"When Ernest began working in his current role, he took a failing area and turned it around immediately," he says. "His constant efforts to keep the buildings clean and [healthful] are a great representation of The Wilburn Company and help to keep the customers in a healthy environment. We are lucky to have Ernest working in our company. Thank you, Ernest."
On Days Off
By night, Ernest is busy making sure office buildings are spick and span. But in his spare time, he enjoys a more peaceful pastime: rod fishing. Ernest has a couple of favorite spots for fishing in Virginia and tries to get out on the weekends when he can.
And when he's not fishing or cleaning, Ernest enjoys spending time with his family. He has three sisters who live further south, and he looks forward to visiting them this holiday season.
We want to thank Ernest Smith for being an exemplary employee and wish him many more successful years with the Wilburn Company!
If you enjoyed this blog, be sure to check out our other employee spotlight articles for more insights into the people who make our company great.
Thank you for reading!