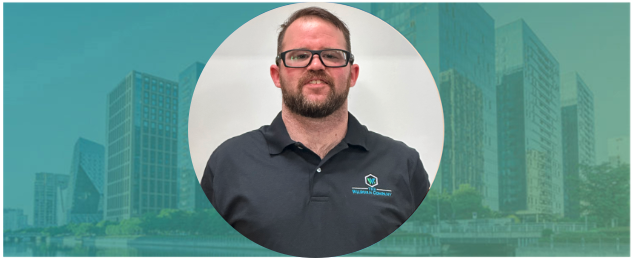 Mark Sherman has made a career in cleaning, and his expertise and dedication shine through at The Wilburn Company. With a background rooted in maintaining bustling skating rinks and local sports stadiums, Mark has honed his skills in keeping spaces immaculate while building positive customer relationships.
Since joining The Wilburn Company, he has seamlessly transitioned into the role of a valued cleaner, leaving no surface uncleaned and ensuring that each client's needs are met.
A Background in Cleaning
Marked started his journey with Wilburn in 2019 when his brother-in-law, working part-time at Wilburn, mentioned some job openings.
Freshly settled in Maryland after a recent move from sunny California, Mark was on the lookout for a new opportunity to put his expertise in janitorial work to good use. With a glowing recommendation from his brother-in-law, Mark eagerly embraced the chance and found himself stepping into a new part-time position at Wilburn.
With a robust background in the world of cleaning, Mark's experience spoke volumes about his skills and dedication. "I've got a strong janitorial background," he proudly stated.
Drawing upon his previous roles, Mark offered an informed perspective, comparing the scale of his current position at Wilburn to the challenges he faced while cleaning massive stadiums back west.
He noted that while the essence of cleaning remained constant, tending to a building's needs on a smaller scale presented its own unique set of rewards and intricacies.
As he settled into his role, he thrived as a valued team member. Starting with the night-cleaning crew, Mark's exceptional work ethic and attention to detail soon earned him a full-time position as a day cleaner. Today, he is responsible for meticulously maintaining two buildings almost single-handedly.
On the Job
However, Mark's contributions extended beyond his cleaning duties alone.
In his role, Mark takes charge of ordering supplies and ensuring their timely arrival from trusted vendors. The responsibility of managing this crucial aspect further demonstrates his reliability and dedication to upholding the Wilburn standard of excellence.
Mark happily acknowledges the support he receives from his supervisor, Luke Raymond, as he emphasizes, "I'm pretty much my own boss. He lets me take the reins," a testament to the trust and autonomy he enjoys within the company.
While every job has its highs and lows, Mark embraces the challenges that come his way as a cleaner at Wilburn.
From navigating minor scheduling issues to handling travel requirements, he faces them with determination.
However, it was during the pandemic that Mark encountered his biggest test. He reflects on the transformative experience, gaining a new appreciation for the vital role of cleaners. "That time gave me a different perspective on how valuable cleaners are. The cleaning industry has taken on a bigger role in keeping everyone's space, office, and common areas safe. We are under a different spotlight now," he shares thoughtfully.
For Mark, the true joy lies in embracing the ever-changing nature of his work.
Each day presents new challenges and opportunities to learn and grow. "I'm meeting different types of people, and each day is new. I like learning new things," Mark expressed enthusiastically.
Off the Job
Beyond work, Mark cherishes spending quality time with his wife, engaging in hobbies like yard work, and passionately supporting his favorite sports teams—the San Francisco 49ers and the Sacramento Kings.
These interests are a well-deserved break from his dedicated efforts at The Wilburn Company.
When asked about the recognition he receives for his exceptional work, Mark's answer was refreshingly modest yet confident. "My work speaks for itself. I'm dependable and don't leave until the job is completed," he remarks with a genuine sense of pride. And indeed, Mark's work ethic and commitment have not gone unnoticed.
We extend our gratitude to Mark for his outstanding contributions to The Wilburn Company. His unwavering dedication and the remarkable level of care he brings to his role make him an invaluable asset to the team.
Thank you, Mark!