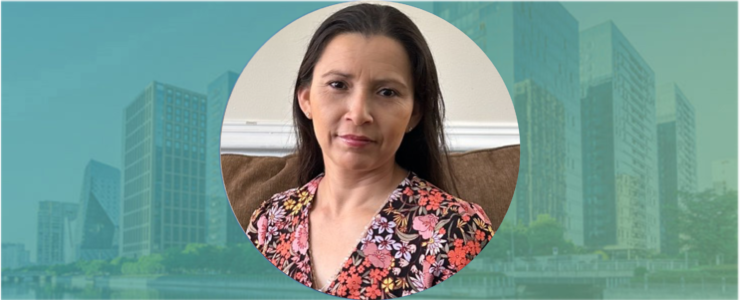 When it comes to keeping a building clean, it takes a lot of hard work, dedication, and attention to detail. But for Mirna Sorto, it's simply how she does her job.
After spending many years working as a custodian for Prince William County Schools, Mirna was ready for a new challenge. That's when a friend who worked at The Wilburn Company told her about an open position for a night cleaner. Mirna knew this was the perfect opportunity for her, so she applied. While she still works as a school custodian, Mirna now spends her evenings working for Wilburn. 
From the moment she started at The Wilburn Company, Mirna's hard work, and dedication were evident. Her managers quickly noticed her passion for cleaning and her attention to detail.
It wasn't long before she was promoted to the role of night supervisor, where she now manages a team of six cleaners who work in a single office building.  "Basically, we do everything in the building. There's also a gym, and we work hard to keep that clean, too," Mirna explained.
Setting an Example
Working the night shift can be difficult, and it takes a special kind of person to thrive in this environment. But Mirna is up to the challenge. She works hard to support her team, listen to their concerns, and ensure they have everything they need to do their job well.
One of the things that Mirna is most proud of is the high standard of work that her team produces. When it comes to cleaning, she believes there's no room for half-measures, even under pressure. She relayed about an experience before she became a supervisor when her then supervisor had stepped away for a time, and other cleaners on her team were out sick.
With her supervisor absent and a few members down, Mirna was placed in charge of the remaining cleaning, and they started their day (or night, in this case.) "We were told then that we were going to have an inspection the next day. So, we had to stay late that night, but I was very glad the inspection went well. But it was a challenge for me." she says.
Lending a Helping Hand
Even through the challenges, Mirna is very grateful for her position. When asked about her favorite part of working for Wilburn, she responded immediately. "It's definitely the way I have been treated. Everyone at Wilburn is a good person. Trust me. It really is good when you find people like that."
Her Area Manager, Jennifer Cohen, returned the compliment when she expressed what Mirna means to Wilburn.
"She does an amazing job keeping the building healthy and clean for our customers. Mirna doesn't mind giving a helping hand if someone is out," Jennifer explained. "She is very organized and keeps me in the loop of any changes in the building. Mirna is the one that holds that building together. I am very grateful to have her on the Wilburn team."
While Mirna Sorto is a dedicated employee, she also enjoys an active life outside of work. She's a basketball enthusiast who honed her skills back in school in El Salvador, where she is from. These days, she loves playing the game with her family.
When she's not shooting hoops, Mirna enjoys camping and canoeing with her husband and children. It's clear that Mirna values her family time and hobbies as much as her work at the company. She's a great example of balancing work and play.
We want to thank Mirna for all her hard work and wish her many more successful years with the Wilburn Company!
And if you're looking for an opportunity to join the Wilburn team, take a look at our job postings here and here to see if you would be a good fit!