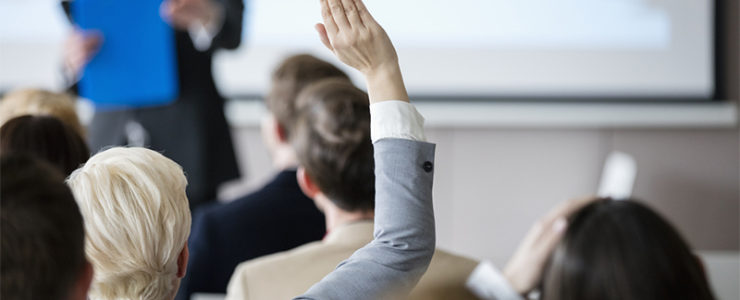 Choosing a commercial cleaning company can seem difficult. It's also incredibly important.
Your commercial cleaning company is an integral part of keeping your facility functioning at a high level. Facility cleanliness matters – not just in terms of aesthetics, but also because cleanliness affects the physical health of your employees and the physical condition of your building.
So, whether you're considering hiring the services of a commercial cleaning company for the first time, or questioning whether or not the time has come to upgrade from your current cleaning service, take the time to gather the information you'll need to make the best decision.
Here are a five questions to ask.
1. What cleaning plans and services does the commercial cleaning company offer?
Each facility and building is different, and the best commercial cleaning companies recognize that fact. They won't offer you cleaning services or planned packages that aren't relevant to your space. As you research commercial cleaning companies, make sure that you have a foundational understanding of what your needs are. Here are a few questions to help:
What is the square footage of your facility? Larger facilities require different procedures than smaller facilities.
What type of flooring does your facility have? If you have carpet, for example, you'll need commercial carpet cleaning, while if you have wood or tile flooring, you'll need regular dusting and mopping.
What levels of foot traffic do you have in your facility? Facilities with higher traffic tend to require more frequent cleaning and different solutions to maintain cleanliness, like walk-off matting.
How much waste does your facility produce? This will impact the waste removal services you'll require.
How many windows does your facility have? This will impact the amount and frequency of glass cleaning necessary.
2. Do they provide green cleaning?
We've written about the importance of green cleaning in depth before. The truth is that green cleaning is more than just a buzzword.
Granted, because green cleaning has become a bit obfuscated by jargon, the term can seem a bit ambiguous. What exactly is green cleaning, and what does it mean when a commercial cleaning company claims to be "green"?
Well, the focus of green cleaning isn't only on being safe for the environment, although that's certainly an important consideration. Green cleaning also means a focus on safety for people; for employees, visitors, families – even for pets, and all living things. For our company, green cleaning means utilizing GS-42 equipment technology and green products. These enhance our front-end services, while at the same time protecting health at our sites with little-to-no impact on the environment.
So, when selecting a commercial cleaning company, ask if they provide green cleaning. And then ask them to define what that means, in terms of the products, services, and trainings they use and provide.
3. How do they service emergency cleaning needs?
Emergency cleaning services aren't necessary – until something goes wrong, that is.
Some commercial cleaning companies don't service emergency cleaning needs at all. That may be okay; if a cleaning emergency is unlikely in your facility, or if you're willing to assume the risk, that may not be a requirement of your commercial cleaning company. However, in most contexts, emergency cleaning services go a long way toward guaranteeing peace of mind.
So, make sure to ask how a commercial cleaning company services emergency needs. Do they offer immediate response, 24/7? Do they agree to be available within the day? Within two days? What does their emergency response team look like – is it the team that normally services the facility, or a team on call?
Take the time to consider whether emergency response services will benefit you – and then ask how potential commercial cleaning companies will service this need.
4. What experience does the commercial cleaning company have?
Experience doesn't always translate to aptitude, but it's certainly a contributing factor to the level of quality a commercial cleaning company will be able to provide. As you're selecting cleaning services, you'll want to ensure that you're selecting a company with a proven system and breadth of knowledge for getting the job done right; you don't want to be a cleaning company's trial run. Toward that end, here are a few questions to ask:
How long has the company been in business?
Does the company have previous experience cleaning facilities that are similar to yours?
Does the company have good reviews and testimonials online?
Will the commercial cleaning company provide you with references?
If the answer to all of these questions is affirmative, there's a good chance that you're looking at a highly-qualified option for your commercial cleaning needs.
5. What training programs do they have in place?
Finally, when choosing a commercial cleaning company, take the time to consider the training methods that they have in place. After all, training programs lay the groundwork for how cleaning staff will actually service your facility.
What training programs are team members required to participate in? At the Wilburn Company, our staff participate in twelve hours of initial GS-42 to establish a comprehensive training base of quality and custodial expertise.
From that point forward, they go on to complete annual continued training, including 24 hours of GS-42 web-based, site-specific, or instructor-led training based on their assigned location.
And, what training do managers undergo? We require that, in addition to the annual 24 hours of GS 42 training, management personnel undergo continued Building Wellness Institute Training. Management then utilizes the training materials from both training regimens, sharing their expertise with supervisory and front line staff through training.
Next Steps to Choose a Commercial Cleaning Company
Are you looking for a commercial cleaning company in Maryland or the surrounding area? Let's talk.
At the Wilburn Company, we service over 9 million square feet every day; simply put, we have a breadth of experience helping clients enact the commercial cleaning services that are right for them. We'd love to talk through any of these questions and more, to help you identify what your needs are and how they can best be met.
Get in touch with us online, or at 410-789-3320.