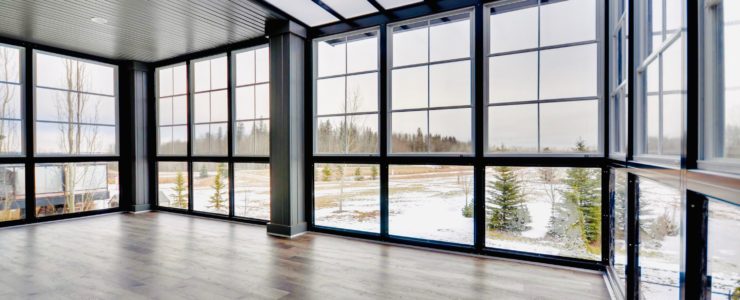 Too often people underestimate the impact of a building's flooring material. Picture yourself walking into a high-end commercial building. Natural light floods the room and glints off of marble floors that cover the expanse of the lobby area. Instantly, the commercial building gives its owners added class, prestige, and reputation.
But with unique floors comes unique cleaning and care needs. The last thing you want is to ruin your nice marble floors by using an acidic cleaner. Or warping your building's beautiful hardwood by using too much water. When choosing a commercial cleaner for your building, pay extra attention to how they'll take care of your floors.
Vinyl Flooring
Vinyl is a common flooring material. It's hardy, cost-efficient, water-and-stain resistant, and can be attractive. Today, vinyl floors can mimic wood, tile, and even marble. It comes in a variety of colors, shapes, and sizes. However, vinyl can be difficult to install.
Vinyl is a relatively thin material. This fact is part of why it's so cost-efficient. But it does mean that the success of your flooring installation often depends on the subfloor underneath it. If there are any bumps, grooves, or indentations, it will show through to your finished vinyl flooring. Because of this, the best subfloor is typically well-sanded plywood.
Vinyl flooring is one of the easier materials to clean. It can be scoured with germ-killing solutions such as antiseptic. It is also resistant to chemicals, such as oil, grease, methane, propane, and more. This means fewer stains to scrub out and that it can handle a heavy-duty cleaning.
However, vinyl isn't indestructible. The surface can be scratched. Therefore, the first step to cleaning vinyl floors is to dry mop to remove any dust or dirt. It's also a good idea to place a mat at all entries and exits. And stain-resistant doesn't mean stain-proof. Wipe up any stains as soon as they occur. Vinyl is not a material where you would use a "mop and shine" product. These can actually leave a dull film on top of your floor. Abrasive cleaners will also scratch the floors and should be avoided.
How Often Should You Clean Commercial Vinyl Floors?
If your vinyl floors are heavily-trafficked, you want to clean them frequently. This will prevent a build-up of dust and grime which could damage the surface. However, you need to wait at least two weeks after it has been installed before cleaning. This ensures that the surface has set and will not be negatively impacted by any wet cleaning.
Wood Flooring
Hardwood floors can be iconic. Depending on what tree they're made out of, they can be quite wide, with beautiful patterning and decent durability. If you have an older more rustic commercial building, they can add a lot of character to your building with a warm feel. However, hardwood floors are expensive. The installation cost of hardwood ranges from $5 to $8 a square foot. This adds up quite fast when you're installing the square footage needed for a commercial building.
Hardwood floors require more care than synthetic vinyl. Its warmth and attractiveness greatly decreases once scratched, or scuffed. If not well-taken care of, it loses its shine and makes your building look grungy and old instead of professional. Part of cleaning and care should include sweeping to remove any dirt that could be ground into it by constant walking traffic. Placing mats at entrances will keep the dust and dirt from entering into your office.
If you do choose to use entryway mats, be sure to sweep underneath them on a regular basis. Otherwise the area underneath the mats will be slowly ground away, as if by sandpaper.
Hardwood floors are easily damaged by sunlight and excess water. Wood is a porous material and will more easily soak up stains and water than vinyl. This will lead to discoloration, warping, and an unattractive floor for your office. Hardwood can also be damaged or discolored by sunlight. If your commercial building has a lot of natural lighting, hardwood floors may not be a good choice.
How Often Should You Clean Commercial Wood Floors?
While vinyl should be cleaned frequently, hardwood flooring should be cleaned every day. This prevents any sort of sandpaper effect by removing the thin layer of dust and grime that has built up from foot traffic throughout the day. In order to truly keep their shine, hardwood floors need to be mopped with a wood finishing product at least once a month. This will help keep the floor shiny and your building looking nice. Avoid excess water usage when mopping to avoid damage.
Concrete Flooring
Concrete floors are becoming more and more popular in commercial buildings. They lend themselves to an industrial feel that is hardy and long-lasting. When it is sealed and polished, concrete can almost have the same impact on your building as marble flooring. It can add shine and prestige to your office. However, if it becomes too dirty or loses its luster, it can quickly start to feel like your typical garage floor.
To keep concrete floors looking professional, it's important to have them scrubbed, sealed, and polished on a pretty regular basis. Despite its durability, concrete is actually quite porous. This means it can easily be discolored by spilled drinks or chemical mishaps. Having your concrete floor sealed helps to prevent discolorations from ruining your flooring.
Compared to carpet or hardwood, concrete is actually an easy-to-care-for material. When it's properly sealed, it's resistant to almost all scratches and stains, and doesn't trap small particulates or dust. However, concrete does still need some maintenance.
How Often Should You Clean Commercial Concrete Floors?
To keep your building clean and fresh, it's a good idea to dry mop on a daily basis. The floor should be scrubbed and re-sealed every few years. This will keep it resistant to stains. Avoiding the use of harsh chemicals or acidic cleaners on a daily basis will keep the sealant intact for longer and help the flooring keep its polished look for longer.
No matter what type of flooring you have, use a cleaner that knows what's best for your building. At the Wilburn Company, we pride ourselves on our employee training process. Our staff knows the best way to take care of your building so you don't have to.
Learn more about our commercial cleaning services here.