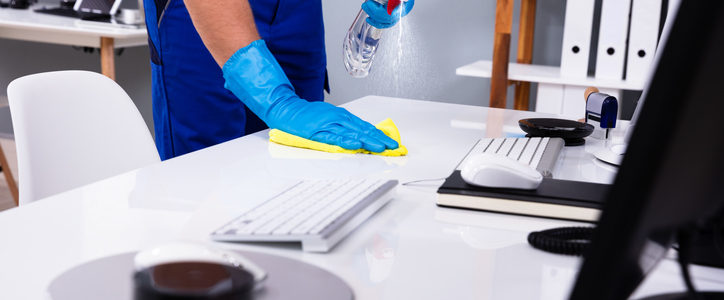 Commercial cleaning is quite different from residential cleaning. The square footage is larger, the stakes are higher, and expectations are quite different from when you're caring for your own home.
If you're a new building or business owner, commercial cleaning may not be at the top of your mind until you're the one left to disinfect several thousand square feet. It's important to understand that commercial cleaning can make a huge difference in tenant satisfaction and ROI.
As a building owner, what do you need to know about the process? What is commercial cleaning?
Here's how it's different from your average round of spring cleaning.
The Definition of Commercial Cleaning
Commercial cleaning is a service that sanitizes retail shops, office buildings, medical facilities, and other types of commercial facilities. Commercial janitors will work on everything that isn't residential, although sometimes specific companies will focus on just office or retail buildings.
Different Types of Commercial Cleaning Services
There are many different types of cleaning services. For example, emergency response could involve cleaning up after a natural disaster, such as a flood, or after an internal emergency, like a burst water pipe. Emergency cleaning can be dangerous work, as hygienists need to watch out for exposed wires and hazardous materials.
Some government buildings require a different type of service than your average office building. Government facilities may contain highly confidential and sensitive information, such as social security numbers or banking information. A secure cleaning team is one that has been fully vetted, complete with stringent background checks and current clearance statuses.
Another type of specialty commercial work is green cleaning. The truth of the industry is that commercial cleaning requires electricity, chemicals, and water. A green team is one that strives to reduce the environmental impact of their work. Equipment used is specifically made to minimize water and energy consumption. The harshest chemicals are traded for dilutions or green alternatives that do not harm the environment.
The Benefits of Commercial Cleaning
Too often, the general public thinks of a commercial cleaning team as one that merely empties the trash and vacuums the carpets. A great company does much more than that, and the benefits of the service are many.
Quick Response to Building Issues
Oftentimes commercial hygienists are the first to notice signs of pest infestations, mold, or peeling paint because they clean every inch of your building. This can be a huge benefit to your maintenance team. It's easy to miss red flags when you're in charge of a large amount of square footage. Your cleaning team is an asset when it comes to fixing problems before they become serious issues.
Healthier Environments
There are also many health benefits to commercial cleaning. A good team can prevent the flu from spreading, reduce the number of winter colds your staff receives, and even create better air quality in your office building. This is all due to the products your team uses and the quality of the clean. A thorough cleaning, including doorknobs, phones, and common areas, can greatly decrease the number of germs in your office.
A commercial cleaning team that uses environmentally friendly products isn't introducing as many chemicals into the air that could irritate your employees' allergies or other respiratory conditions. Dirty carpets can trap air pollutants in their dense fibers, also decreasing office air quality. A good clean removes dust, dirt, allergens, and other irritants from your building.
What Are Examples of Commercial Cleaning Products?
The commercial products that your team uses are very different from your average glass cleaner, mop, and household vacuum. While a commercial cleaning team may have the same tasks as you do when you straighten up your home, the scale of the operation is quite different and requires different products.
Commercial cleaning equipment includes a large vacuum that is capable of going all day long and scrubbing a large number of floors. Some buildings with marble or cement floors may require a floor polisher as well. Glass walls and windows are shined with a diluted solution and squeegee; this ensures a streak-free view from your office windows.
Many commercial cleaning products have a high chemical content. This can include bleach, ammonia, or other toxic solutions. When combined inappropriately or used at too strong of a level, these products can result in harmful gases or poor indoor air quality. At the Wilburn Company, we pride ourselves on using green cleaning products instead. Green cleaning products use solutions that are free of volatile organic compounds that could result in irritated airways.
What Training Is Needed for Commercial Cleaning?
Commercial cleaning requires at least several courses of training, maybe more depending on what type of service the team is providing. For example, the qualifications for emergency response training include handling hazardous materials, recognizing biohazards, and how to stay safe in dangerous situations.
There are also specific courses in green cleaning. These courses ensure that our employees understand how their actions impact the environment, how to reduce that impact, and how to use green cleaning equipment. The majority of our green cleaning training is done through the Green Seal organization. As a GS-42 certified company, we have personal experience with the training and the high standards that they hold our employees too.
At the Wilburn Company, we encourage our employees to seek continuing education on new techniques and materials used in the cleaning industry. To this end, we run a Quality Assurance program. This program makes sure our employees are using their training appropriately and staying true to our high standards.
The Quality Assurance program starts with a Quality Control Manager and Inspector. This team files inspection reports, which make their way up to the Vice President of Operations and then the President. This process results in company-wide transparency and accountability for performance, and it's what allows us to provide quality assurance cleaning in MD and throughout the region in a way that's consistent and dependable.
The Wilburn Approach to Commercial Cleaning
At the Wilburn Company, we approach commercial cleaning with a focus on secure facility space and are dedicated to providing premiere cleaning services that truly meet our clients' needs. In 2018, we became Green Seal certified and remain committed to green cleaning and reducing our environmental impact.
We believe in the benefits of commercial cleaning and refer to our team members as environmental hygienists, instead of janitors. This encompasses our belief that our employees are contributing to a better earth and reducing the spread of disease.
Ready to Get Started with Commercial Cleaning?
Whether you need green cleaning, general office, or day porter services, we have the breadth of resources and experience to meet your needs. Learn more about what we can offer you here.