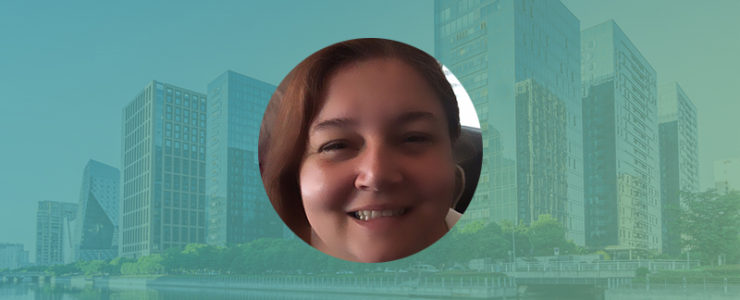 When Roxanne Miller started working as a part-time cleaner with The Wilburn Company while in college, she expected that the job would be temporary.
"I was just looking for a little bit of extra income to pay for college and pay the bills," she says.
She found it, but she found more, too. Wilburn's hours worked nicely with her full-time school schedule, and Miller found that she enjoyed the work and its outcomes – even after she graduated and moved into a full-time job at another company. "At Wilburn, I ended up making more than I did at my day job," she says.
With a growing family and a limited number of hours in the day, Miller realized that she had to make a choice about her primary place of employment. She chose The Wilburn Company.
"It's worked out," she laughs.
There's no denying that. Today, after growing in a series of roles, Miller is a project manager. That means that she's responsible for overseeing employees across a range of 45-50 buildings and ensuring that the work done in them lives up to our company's high standards.
It's a big responsibility. But she continues to live up to the role – and, as she tells it, she's learning more every day.
Lessons Learned Along the Way
There's a lot that goes into cleaning; the work enables you to grow a broad range of skills, Miller explains. "You've got to be good at time management," she notes. "You've got to be able to multi-task. You've got to be a good communicator, too."
In Miller's first roles, communication within her team was important. Now, though, her range is broader. As she does project management, she's responsible for passing information in all directions: to her cleaning teams, to her clients, and to company management.
Bob Baldwin, The Wilburn Company's COO, has witnessed Roxanne's growth firsthand.
"When I started with the company," Baldwin remembers, "Roxanne was a good manager but lacked the resources and support to become great. As I worked with Roxanne, I saw her growth in not only more effective management of operations but, more importantly, management of her relationships with her crews."
That growth has led to an expanded role, Baldwin says. "Once we restructured Operations, we gave Roxanne the proper support and resources she needed to thrive," he recounts. "We moved Roxanne into a very important role given her growth and ever since she has excelled. Her understanding of all aspects of our business has grown tremendously. That understanding is truly reflected in the great job she does day in and day out."
Today, according to Baldwin, "Roxanne is a valuable member of our management team and has a great opportunity to continue her personal professional growth."
Miller agrees, and she sees her growth as a way to support her team, too. "It's really important to be out there talking to people on a regular basis," she says. "Ultimately, I'm there to support people."
The Most Important Part of Cleaning
And that, observes Miller, is what cleaning is all about: the people. As we've written about before, cleaning is about keeping people healthy. Miller is passionate about that.
"I find cleaning really satisfying," she says. "Making a building clean is a great feeling."
It's especially satisfying doing it with and for people you appreciate. "I love my staff," Miller says, "and I can't ask for better clients or people to contract through."
Looking Forward to the Future
The relationships at The Wilburn Company have provided some stability in the midst of what's been a harrowing year.
Yet, even in spite of 2020s challenges, Miller believes the future at The Wilburn Company is bright. In fact, some of the positive changes she's observed have come out of the pandemic: "People are starting to realize how important our job is," she notes. "The pandemic has made it clearer."
On top of that, though, the company is positioned to help its people thrive. "I really do see great things coming," she says. "The things that we're doing – the office remodel, the incentives, the processes – they're showing people how much we care."
Most of all, Miller looks forward to continuing to build relationships.
"Wilburn has become like a second family to me," she explains. "I know that they'll be there for me. And I want to treat my employees like that."
At The Wilburn Company, we're honored to call Roxanne Miller a part of our family, and we're proud to have her as a representative of our team. Her focus on serving our clients and employees well exemplifies what our people-first approach means in practice.
Thanks, Roxanne.