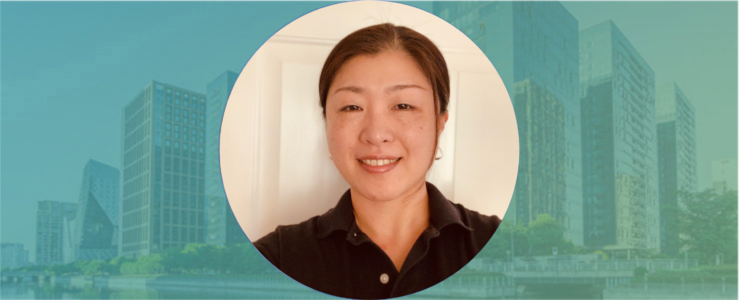 Reiko George enjoys one of the most genuine pleasures in life. She loves her job.
As a supervisor here at The Wilburn Company, Reiko spends her days working hard for clients and maintaining the Wilburn standard.
"I am very fortunate because I love working," she says. "I love cleaning. I love it!"
Her passion for her work is evident, and it all started back in 2014 when Reiko came to The Wilburn Company.
Reiko started at her current position after her husband, Derek George, who works for Wilburn as a Custodial Manager, mentioned the opportunity to her.
"He introduced me to the job," she says, "and I started soon after that."
Keeping the Balance
Over the past six years, Reiko has grown at Wilburn and often draws from her past experiences as an executive assistant and government building secretary.
Her skills in working with people and organizing information have helped her immensely in her role.
While she splits her workdays between cleaning in four different buildings, Reiko puts in a lot of her time at a hospice care facility supporting their staff there.
She cleans nearly every room in the building diligently and makes sure all of the residents, doctors, and nurses have their cleaning needs met.
She is also in charge of managing six other janitorial cleaners at Wilburn and is passionate about doing so to the best of her capabilities. She supports them by arranging schedules, providing details and instructions, and checking for quality assurance without neglecting her own cleaning responsibilities.
"It's a balance," she says.
Keeping this balance means managing well and stepping up whenever they need her—even if that means working outside her normal day hours.
"If someone in my crew takes a day off or if something happens, I do cover for them at night."
Reiko's dedication makes their jobs easier.
Her own Wilburn project supervisor, Roxanne Miller, had this to say about Reiko's leadership skills: "Reiko is a supportive motivative leader to her staff. She makes sure the staff is safe, and all tasks are completed in a timely manner. She goes above and beyond to keep the building and its employees healthy and happy."
Keeping up with Communication
Reiko says the key to her job is making sure everyone is on the same page.
"Communication with people is the most important thing. We are human," she says. "Sometimes things need to be helped. I really do care about [communicating]."
Reiko also understands the importance of communication with her clients, with whom she meets regularly.
"I meet with them if they have any concerns with the cleaning, and we fix it," she remarks.
In return, Reiko's clients acknowledge her commitment to them. They are often encouraging and complimentary of Reiko's work.
"That gives me the motivation to do more and more!" she says.
And it's mutual. Reiko says that her coworkers at The Wilburn Company also motivate her.
"I like the people at Wilburn," she says, smiling. "They are very helpful and always support me as much as they can, and are very honest. I think that's why I love to work."
Reiko also praises Roxanne Miller. "She is very kind and encourages me often," she says.
We are grateful for her balanced and passionate approach to her job.
Keeping up with Family
Reiko's life is a busy one. Not only is she one of The Wilburn Company's commercial cleaning stars, but she's also a proud mother and loving wife.
Even when she puts in long days or even nights with her janitorial duties, her family understands.
Her daughter helps out with the household chores, and Derek, Reiko's husband, is always there to lend a supportive hand.
When Reiko has some time to spare, she loves to plan trips with her family.
"I love to see the world," she says. "I like to research which country I want to go to in the future. I check out the culture, the food, and the people."
Reiko George is an outstanding employee of The Wilburn Company
Her attention to detail is unmatched, and she has a knack for seeing things in an organized light. We're sure that's one of the reasons why she loves traveling so much!
We wish her only good fortune on her future travels and greatly appreciate her stellar performance! Thank you for all that you do, Reiko!
Tags:
commercial cleaning
,
employee spotlight