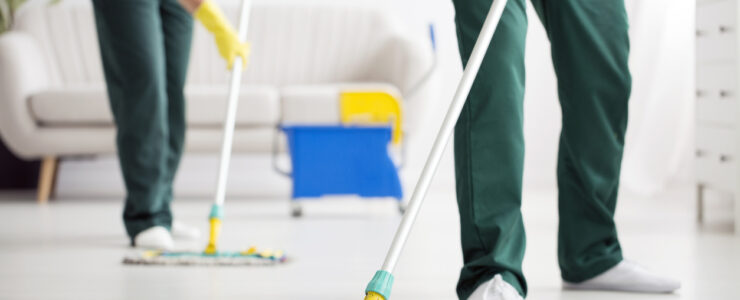 Spring has sprung! It's a time for blue skies, April showers, May flowers, and new beginnings. Sometimes a new beginning means cleaning out the old and dirty. In other words, the time for spring cleaning has come.
This practice has a long history and continues to be a large part of the spring season for many people. In fact, a recent Bona/Harris Poll survey of over 2,000 U.S. adults found that 93% are planning to spring clean this year.
It's a wise decision for anyone to participate, but it's especially important for the commercial industry to consider. After all, your spaces see much more traffic than the average household, and presenting a clean building is a professional expectation.
If you've been putting off scheduling a deep spring clean for your commercial building, this post is for you.
Here are four reasons you should have your office or company space thoroughly scoured before the spring months are out.
1. Your Floors, Windows, and Furniture Need It.
This may seem a little obvious, but it's still worth mentioning. We know cleaning is always essential, but after the long cold winter, your spaces and surfaces need a good cleanse.
During the colder months, we generally spend a lot of time indoors, and that can cause significant grime build-up. Carpets are muddier, windows foggier, furniture dustier, and even the air may be mustier. A drive-by cleaning won't bring these elements back up to par.
Getting an expert deep clean will get rid of the accumulated filth and bring some refreshing sights and smells to your commercial building.
2. You'll Clean Those Easily Neglected Areas.
Do you typically scrub down your walls, clean out every vent, and dust all the décor in your building? That answer's a no for most companies, even if they have a regular maintenance schedule in place. It's completely understandable. Parts of your facilities can be harder to reach and more time-consuming to clean than others.
That's why the spring season is the perfect time to get these areas checked. You're already considering a deep clean, and professionals can thoroughly clean these neglected areas that you don't typically have time for.
In the wake of the COVID-19 pandemic, many people have asked us what disinfecting steps need to be taken to protect against the virus.
While we do recommend cleaning those neglected areas, it is also crucial to continue to disinfect common and high-touch places in your commercial buildings. Harmful germs can be wiped away almost as quickly as they collect. With all areas covered and commercial cleaned, your building will be fresh and ready for the coming months.
3. Your Staff Will Thank You.
The allergy and cold seasons are in full swing. Eliminating pollen, dust, mold, and other harmful pathogens are more important than ever.
According to the American College of Allergy, Asthma, and Immunology (ACAAI), spring cleaning can ease symptoms for those with allergies and asthma.
Also, providing a cleaner and less cluttered space for your employees can help boost morale and improve productivity. If your goal is to get a deep spring clean, consider making a company-wide effort. This will encourage your employees to clean up desks and work together to create a fresher, more hygienic workspace.
Taking these steps can help boost morale and improve productivity amongst your staff.
4. You'll Create an Overall Healthier Work Environment.
Finally, improving overall health isn't just about what you clean but how you do it.
We've said this before, but we'll say it again, Green cleaning is the how you should consider for your commercial cleaning.
Contrary to a common misconception, it is not only about cleaning in a way that protects the environment. That's an integral part of it, yes – but green cleaning is primarily focused on improving human health.
Traditional cleaning methods use cleaning products that can be harsh on humans as well as dirt and germs. They also tend to use processes designed to maintain cleaner aesthetics, not necessarily human health. That won't do anything for improving the overall health of employees, customers, and clients.
At Wilburn, we're proud to be GS-42 certified by Green Seal. This means that we're committed to:
Reducing chemical waste through the efficient use of chemicals
Reducing solid waste
Optimizing cleaning frequencies
Providing continuing training to staff
Ensuring transparent communication with clients and employees
You can read more about the specifics of our green cleaning initiatives here.
Looking for a partner to keep your office clean this spring and beyond?
If you have any questions about any of the tips listed above (or about office cleaning services in general), let us know. Don't forgo spring commercial cleaning for your office this year – it's a valuable checkpoint. After all, office cleaning isn't just a utility; it's a critical factor in maintaining people's health, the condition of your building, and the safety of our environment.
At The Wilburn Company, we're passionate about cleaning for health because it means caring for people. We'd love to partner with you in keeping your building clean and your people healthy this spring, this summer, and beyond.
If you're interested in upgrading the office cleaning services at your facility, get in touch with us today.