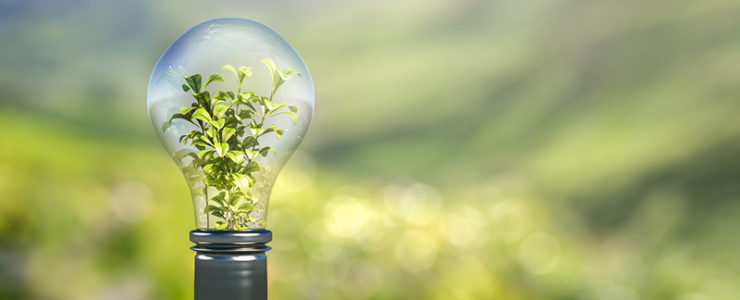 If you're in facility management, you've probably heard the buzz around green cleaning. As a service, it's changing commercial cleaning, and as a part of building wellness initiatives, it's impacting the entire field of facility management.
Yet, for all of the buzz, there are still aspects of green cleaning that are relatively little-known, or even commonly misconceived.
Don't worry – we're here to help. Green cleaning is incredibly impactful, and it's important to understand it fully. With that in mind, here are five things you might not know about green cleaning.
1. Green Cleaning Is Not More Expensive
In fact, green cleaning is not only comparable in cost – it can actually be far less expensive than traditional cleaning services.
It may seem surprising, but it's true.
Not only are there hidden costs to traditional cleaning methods (like cleaning equipment maintenance, higher quantity of product usage, and even employee health considerations) – but green cleaning also has cost efficiency built in through several mechanisms:
Green cleaning allows you to spend less on cleaning supplies.
Green cleaning allows you to spend less on energy.
Green cleaning decreases depreciation of assets being cleaned.
Don't let the supposed cost of green cleaning services be a barrier to their implementation in your facility.
2. Green Cleaning Is More Than Simply Using Green Products
The focus of green cleaning is about making buildings safer: for the work, play, and lives of the people who occupy them. That also means safer in terms of the environmental impact that they have on their surroundings.
Consequently, green cleaning doesn't simply entail the use of organic products. Procedures and training are major components of green cleaning, too.
Green Seal defines green cleaning procedures in the following terms:
"(Procedures that are) redefining the processes or the ways in which cleaning is performed, to enable the effective removal of contaminants without adding unwanted substances to the environment or otherwise causing harm."
These differ from traditional cleaning procedures because they are focused on removing contaminants and minimizing harm, as opposed to a focus on making surfaces look "clean" at any cost.
Training, too, is a major component. For instance, all of the The Wilburn Company's staff are required to participate in 12 hours of initial GS-42 to learn Green Seal standards for procedures, products, and service. This comprehensive training establishes a base of quality and custodial expertise.
From that point forward, they are required to complete 24 hours annually of continued training, which can be web-based, site-specific, or instructor-led training based on assigned location.
3. Green Cleaning Services Can Benefit Your LEED Score
Green Seal certified green cleaning services can actually help you to achieve LEED points.
At the Wilburn Company, we're proud to be GS-42 certified, which means we've undergone extensive training and review to ensure that all of our procedures are compliant with Green Seal standards. For your business, it means that using our green cleaning services offers LEED point potential in the following areas:
Green Cleaning Policy
Green Cleaning – Products and Materials (1 pt)
Green Cleaning – Equipment (1 pt)
It's that simple: with a certified policy in place, and with performance via certified products, materials, and equipment, your business' building can earn 2 points toward your LEED score.
And that can contribute toward your cost savings and bottom line.
4. Green Cleaning Services Can Build Your Brand
It may not be obvious, but it is logical – green cleaning services build your brand. The rationale is that, given the choice between a green building or a non-green building, people nearly always choose the green option.
That's not all, though. Choosing green cleaning services can promote your business as a leader. For example:
By choosing green cleaning, you're displaying corporate social responsibility for the impacts of your decisions and activities
By choosing a Green Seal certified business, you're partnering with the leading independent sustainability ecolabel in the nation
The reality is that changing how consumers think about green services is the job of innovators, leaders, and scientists working together – and if your business joins those ranks, you're quickly placing your brand in very good company.
Yes, brand value is difficult to quantify. But that doesn't change the fact that it's very real – just ask brands that have seen their public perception take a hit.
5. The Best Green Cleaning Services Are GS-42 Certified
To become GS-42 certified, cleaners must meet program requirements as measured by Green Seal, including:
Reducing chemical waste through the efficient use of chemicals
Reducing solid waste
Optimizing cleaning frequencies
Providing continuing training to staff
Ensuring transparent communication with clients and employees
A company can say they offer green cleaning, but the GS-42 certification proves that a company's commitment to changing lives by cleaning for health is founded in reality and hard work.
Take the Next Step in Green Cleaning
So, there you have it – five things you might not have known about green cleaning. Hopefully, you're now better equipped to understand the full impact of this important cleaning approach.
And if you're ready to move from understanding to action, let's talk.
Here at The Wilburn Company, we pride ourselves on our green cleaning focus. We're a GS-42 certified cleaning provider with full green cleaning capabilities. We have the expertise and resources to service your facility with premier green cleaning you can depend on.
To learn how your facility can benefit from green cleaning services, get in touch with us online, or at 410-789-3320.