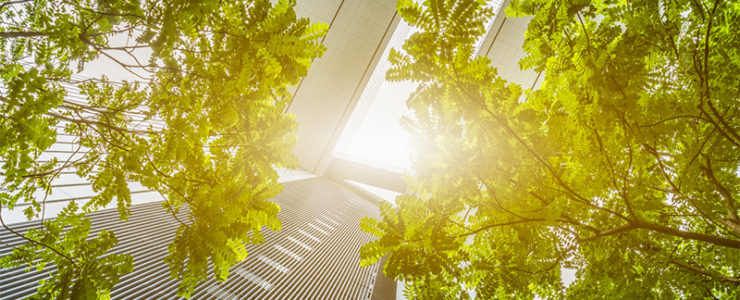 Green cleaning is more than a buzzword. It's a fundamental approach that's reshaping the commercial cleaning industry around a new set of standards. It's a focus that puts people's safety first. And, increasingly, it's an essential aspect of any successful cleaning company.
At The Wilburn Company, we've spent decades cleaning millions of square feet in D.C., Baltimore, and throughout the Maryland region. Over that time, it's safe to say we've seen a few cleaning trends come and go.
Green cleaning is not a passing trend. It's here to stay.
Yet, while green cleaning is increasingly recognized as an integral focus of commercial cleaning, there is still a certain amount of obscurity surrounding the term. What, exactly, is green cleaning?
In an effort to make green cleaning more understandable, we've written before about it's different aspects: the science behind green cleaning, green cleaning products, and even how the D.C. environment impacts green cleaning. Today, let's dive into another important component of green cleaning: green cleaning procedures.
Along the way, we'll answer the following questions:
What makes green cleaning procedures different?

What are some examples of green cleaning procedures?

And, of course: why do green cleaning procedures matter?
What makes green cleaning procedures different?
Non-green procedures were primarily focused on the removal of contaminants. That focus justified the use of harsh chemicals and practices in the pursuit of "cleanliness" – an aesthetic appearance more than a state of health. Green cleaning represents a priority shift from aesthetic to functional health.
So, at its core, green cleaning is about making facilities safer: safer for people to live, work, and play in, and safer in terms of the environmental impact that they have on their surroundings.
Accordingly, green cleaning procedures don't entail just using organic products, or only minimizing the amount of cleaning activity done. Instead, Green Seal defines green cleaning procedures this way:
"(Procedures that are) redefining the processes or the ways in which cleaning is performed, to enable the effective removal of contaminants without adding unwanted substances to the environment or otherwise causing harm."
Green cleaning procedures are different because they are focused on removing contaminants and minimizing harm, as opposed to a focus on making surfaces look "clean" at any cost.
What are some examples of green cleaning procedures?
With the foundational philosophy of green cleaning noted, let's get a little bit more practical and take a look at some examples of green cleaning procedures.
Standardizing Green Cleaning
Without standards, green cleaning procedures are simply suggestions. To be properly enacted, green cleaning procedures should be integrated into a system of Standard Operating Procedures (SOPs). These should be a part of the functioning plans of operations and maintenance for the facility, and they should be made accessible to both cleaning personnel and building occupants.
To fully integrate green cleaning procedures, new employees should be trained via initial, on-site, and site-specific programs. And, all employees should receive annual training or education to ensure that knowledge and practices remain up-to-date.
Floor Cleaning
When it comes to floor cleaning, green practices entail two main focuses: removing dust and other contaminants (as opposed to simply spreading them to different areas), and doing so with chemicals that will not cause harm.
That generally means taking a preventative strategy; after all, if floors are more protected, harsh chemicals will not be necessary. Consequently, green floor cleaning emphasizes matting systems and attention to entryways and exits. Contaminants are often brought into a building at these points, stowed away on the shoes of occupants. And, it's from these points that contaminants spread throughout a building.
By focusing on these areas, the spread of contaminants is reduced – and the need for harsh chemicals is reduced, too.
Restroom Cleaning
Traditionally, restroom cleaning requires harsh chemicals that are uniquely suited to neutralize location contaminants. Green cleaning procedures must neutralize these contaminants, too, while avoiding chemical usage that is unnecessarily harmful to occupants.
Some of this comes down to product selection; there are green products for toilet bowl cleaning and drain cleaning that are as effective and less harmful than traditional alternatives. Some of it comes down to procedural techniques: focusing on dry surfaces before wet, and adhering to dwell time recommendations (the amount of time a cleaning material is left to sit on a surface before being removed).
Food Areas
Green cleaning procedures require a focus on food areas, as well. Improperly maintained food touch points can lead to pest infestation, introducing a need for harmful pesticides. Alternatively, properly maintained food touch points can reduce the need for harsh chemicals.
Consequently, green cleaning emphasizes eliminating wastes and residues that would attract pests. This may involve rinsing out food and drink containers, cleaning fridges frequently, or sanitizing food preparation and consumption areas. With a focus on prevention, green cleaning procedures help to ensure that harmful chemicals are needed less often.
Reducing Waste
Finally, green cleaning procedures seek to minimize waste products. This typically includes a focus on reusable cleaning items: microfiber cloths, for example, in place of paper products.
It also means focusing on proper quantities of cleaning products, to avoid having to dispose of a surplus of packaging materials. And, it means recycling cleaning materials as possible.
Why do green cleaning procedures matter?
Hopefully, you now have a clearer understanding of what green cleaning procedures entail, as well as a clearer understanding of the logistical forms those procedures take. You may still be wondering, though: why do green cleaning procedures matter?
The simple answer is that green cleaning matters because it improves the health of building occupants. Traditional cleaning methods were focused on aesthetic cleanliness, but they often involved practices and products that had harmful effects on humans. Harsh chemicals and contaminants that were displaced instead of truly removed all added up to significant health risks for the individuals who spent significant time in a facility.
There are other benefits, too: potential tax breaks, minimized environmental impact, and improved facility value, to name a few.
The main benefit of green cleaning procedures, though, is that they make buildings more friendly for people.
That's why green cleaning procedures matter.
Next Steps for Green Cleaning
Ready to implement green cleaning procedures at your facility? At The Wilburn Company, our focus is on environmentally-friendly commercial cleaning. That's why all of our cleaning staff are trained using GS-42 standards and encouraged to use environmentally conscious policies that our leaders support.
These efforts to train and support our cleaning staff provide our customers with a safer and healthier indoor work environment. They make buildings better for people.
Want to learn more about how we clean for health? Contact us today to talk about how our green cleaning practices can help you.