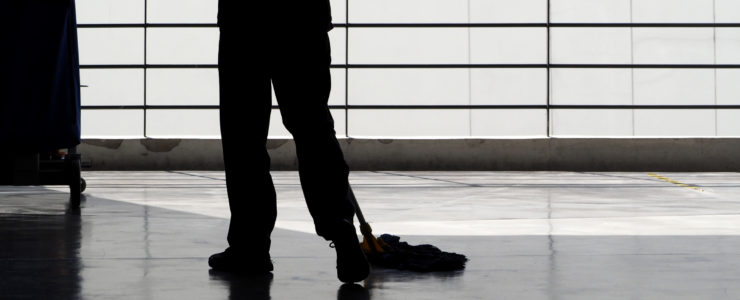 Cleaning is more than a commodity.
The cleaning industry has always faced a level of stigma, largely on the basis of misconception.
Take these commonly held myths, for example:
People think that cleaning is a static industry. It's not. It's dynamic. Technology and innovations are evolving the cleaning profession just as they're evolving other professions.
People think that cleaning doesn't require training or skill. It does. Extensive training is required in order to provide high-quality cleaning services (to say nothing of GS-42 certified services).
People think that cleaning is for aesthetics. Cleaning is for health. Looking clean is important. But being clean (achieving a state that benefits humans and the environment) is vastly more important.
And the list could go on.
As a consequence of the industry's misperception, it's no surprise that cleaning has often been regarded as a commodity, with price as the primary differentiator among providers. When price is the differentiator, cleaning providers race to the cost floor. Unfortunately, they often hit the service floor, too. The result is that buildings get a low price and a low level of service that ultimately hurts everyone involved.
But here's the thing: cleaning isn't a commodity. It's a service that provides high value when it's delivered well and results in great harm when it's not.
At The Wilburn Company, we've seen firsthand that cleaning services have a great impact on the health of businesses, facilities, and individuals. Accordingly, we take pride in providing high quality services that take buildings to the next level and keep people healthy.
Here's how we provide cleaning services that are more than a commodity.
Carefully designed operations systems and processes.
We've written about this before, but much of the success in cleaning service comes down to the success of processes. Good processes empower good people to do good work – and that ultimately leads to high-value service.
Over the past year, we've focused on streamlining our operational systems and processes so that our people are oriented toward the most impactful roles they can serve. We equip our teams to succeed, with detailed training around foundational practices and specialized practices. We engage in proactive and consistent communication. And we maintain dedicated quality assurance personnel that hold us and our work to a high level.
Overall, we're focused on being focused, with each individual accomplishing the one job that will best serve our company and our clients.
Focus on employees and a strong culture.
As the outcome of that focus, our goal at The Wilburn Company is to come together as one in order to best serve our clients – which is why a commitment to employees and a strong culture is so important.
Operations and culture, after all, each support each other.
So, how do we facilitate culture? Well, culture is notoriously difficult to define, but we believe a strong one starts with showing employees that they're valued.
We show employees they're valued through extensive training that empowers them to succeed at their jobs.
We show employees they're valued through the language we use to describe our services. Our people are Environmental Hygienists, not custodians.
We show them they're valued by incorporating employee feedback into our programs.
We show them they're valued by materially investing in them, whether that's through new uniforms, new equipment, or even through providing public transport passes to our day porters so that their commute doesn't cost them.
The result of a strong, employee-focused culture is great service. It's something we've seen demonstrated over and over in circumstances where our employees have gone above and beyond to help our clients.
Continual commitment to improvement.
Finally, providing high-quality service that's more than a commodity means continually striving to improve.
As we've said, cleaning is a dynamic industry. Offering high value means continuing to evolve to offer the best services available through the best means available.
Over the past two years, for example, we've become Green Seal and GS-42 certified, offering premier green cleaning services that keep buildings and people healthy. That's also meant updating our product and service selection to innovative green products and procedures that clean effectively with less human and environmental impact.
We've embraced other new technologies, too. We've implemented biometric timekeeping systems that more effectively track hours and pass on efficiencies to our clients. We've launched a mobile app and work order technology that streamlines communication and makes service management seamless.
At a foundational level, we're committed to continually improving our services. Because our partners depend on our services to maintain brand reputation – and the occupants of buildings depend on us for their health.
Ready for cleaning that's more than a commodity?
The truth is that your building and your people can't afford cleaning services that are racing to the bottom levels of price and quality. Cleaning is more than a commodity. It's a highly valuable part of building a brand. It's in keeping people healthy.
At The Wilburn Company, we're honored to partner with our clients in both of those endeavors. To learn more about how we provide high-quality cleaning services, get in touch with us today.