Commercial Cleaning Services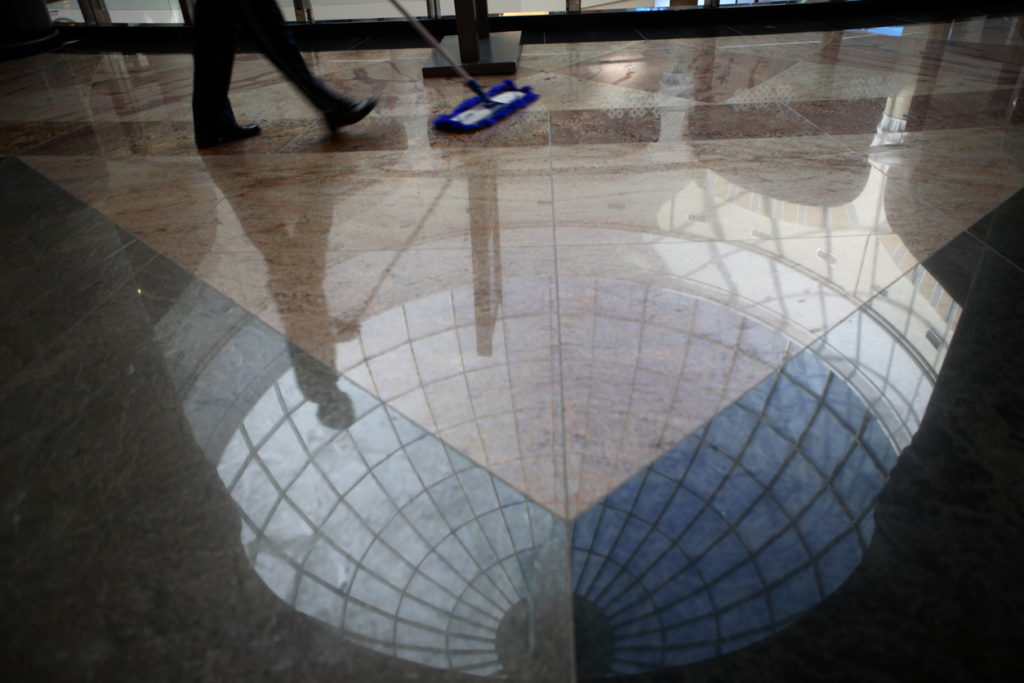 Are you looking for Maryland commercial cleaning services? You've come to the right place.
At The Wilburn Company, we offer a comprehensive selection of commercial cleaning services delivered by an outstanding team. From certified green cleaning to rigorous disinfecting procedures, we deliver service that keeps your buildings clean and your occupants healthy.
If you're not ready to get a quote yet, you may be looking for more information on commercial cleaning services in general. To help you toward that end, we've put together answers to some of the most common questions we receive in the space.
These include:
Ready to learn more about commercial cleaning services? Read on.
What is a commercial cleaning service?
A commercial cleaning service maintains commercial buildings – including offices, warehouses, retail establishments, and more – through cleaning procedures delivered under a contract and usually defined in a Statement of Work.
Let's dig a little deeper, though. Most people know, at least at a general level, what a cleaning service is. It's a bit self-explanatory, after all. But there are skills and subtleties to commercial cleaning that often aren't fully understood.
First of all, commercial cleaning deals with commercial buildings, and cleaning in these environments is not the same thing as cleaning around your home. Different appliances are being cleaned, different products are required, and different techniques are used.
As King of Maids notes, commercial cleaning includes things like "commercial waste clean-up, hazardous clean-up, or heavy cleaning… cleaning machinery, blank spaces, chemicals and other industrial solvents… (and) special events such as a fire or flood clean up." And that's just the start, really. The specifics of commercial cleaning services vary depending on the facility being cleaned – but it's important to note that the job is fundamentally different than residential cleaning.
Second of all, delivering commercial cleaning services requires complex and coordinated logistics. As we've written before, in commercial cleaning, "the square footage is larger, and the stakes are higher." In order to properly clean a commercial facility, a commercial cleaning service needs to establishing cleaning zones, work teams, and procedures that take a variety of unique environmental factors into account.
It's not as simple as showing up. Actually, it takes a lot of expertise, and it's dependent on having a high-quality workforce.
What services are included in commercial cleaning?
With the definition of commercial cleaning provided, let's take a look at some of the specific services that are often included in commercial cleaning.
At The Wilburn Company, some of the commercial cleaning services we provide include:
General office building cleaning for Maryland facilities
Vacuuming carpeted surfaces
Detailed dusting on vertical, horizontal, high/low, and hard to reach surface areas
Damp and wet mopping hard floor surfaces, dust mopping and sweeping
Empty wastebaskets, replace liners, can surface cleaning
Sanitize fixtures and contact surfaces
Disinfecting services
Glass surface cleaning
Carpet spot removal and area shampooing
Buff hard floors
Scrub hard surface and tiled floors
Strip and refinish sealed hard surface Flooring
Collect, separate and track recycling
Emergency support services
Post-construction cleaning
Day porter services
And more, depending on the unique needs of your Maryland commercial facility.
What do green commercial cleaning services include?
At The Wilburn Company, we're proud to have the capability to deliver green commercial cleaning services; we see this as an important evolution in commercial cleaning services.
Importantly, green cleaning is not only about cleaning in a way that minimizes environmental aspect. That's a part of it. But, at a more comprehensive level, green cleaning is about cleaning for health ­– the health of the environment, yes, but also the health of people and the health of the facility itself.
In general, green commercial cleaning services are driven by three philosophies:
Green cleaning products should cause as little harm as possible to people and the environment
Green cleaning procedures should reduce waste as much as possible
Green cleaning programs should be designed with people in mind – meaning that cleaners should receive ongoing training and clients should receive transparent communication.
Of course, you can't just say you're going to shoot for these objectives and then label your company a green cleaning company. Green commercial cleaning services involve cleaning to clearly defined green cleaning standards; without standards, green cleaning procedures are simply suggestions. Our company was certified by Green Seal in 2018 to deliver green commercial cleaning services.
And to be properly enacted, green cleaning procedures should be integrated into a system of Standard Operating Procedures (SOPs). These should be a part of the functioning plans of operations and maintenance for the facility, and they should be made accessible to both cleaning personnel and building occupants.
With that in mind, let's review a few common commercial cleaning procedures, and examine how they're impacted by a green cleaning approach.
Floor Cleaning
When it comes to floor cleaning, green practices entail two main focuses: removing dust and other contaminants (as opposed to simply spreading them to different areas), and doing so with chemicals that will not cause harm.
That generally means taking a preventative strategy; after all, if floors are more protected, harsh chemicals will not be necessary. Consequently, green floor cleaning emphasizes matting systems and attention to entryways and exits. Contaminants are often brought into a building at these points, stowed away on the shoes of occupants. And, it's from these points that contaminants spread throughout a building.
By focusing on these areas, the spread of contaminants is reduced – and the need for harsh chemicals is reduced, too.
Restroom Cleaning
Traditionally, restroom cleaning requires harsh chemicals that are uniquely suited to neutralize location contaminants. Green cleaning procedures must neutralize these contaminants, too, while avoiding chemical usage that is unnecessarily harmful to occupants.
Some of this comes down to product selection; there are green products for toilet bowl cleaning and drain cleaning that are as effective and less harmful than traditional alternatives. Some of it comes down to procedural techniques: focusing on dry surfaces before wet and adhering to dwell time recommendations (the amount of time a cleaning material is left to sit on a surface before being removed).
Food Areas
Green cleaning procedures require a focus on food areas, as well. Improperly maintained food touch points can lead to pest infestation, introducing a need for harmful pesticides. Alternatively, properly maintained food touch points can reduce the need for harsh chemicals.
Consequently, green cleaning emphasizes eliminating wastes and residues that would attract pests. This may involve rinsing out food and drink containers, cleaning fridges frequently, or sanitizing food preparation and consumption areas. With a focus on prevention, green cleaning procedures help to ensure that harmful chemicals are needed less often.
Reducing Waste
Finally, green cleaning procedures seek to minimize waste products. This typically includes a focus on reusable cleaning items: microfiber cloths, for example, in place of paper products.
It also means focusing on proper quantities of cleaning products, to avoid having to dispose of a surplus of packaging materials. And it means recycling cleaning materials as possible.
How much do commercial cleaning services cost?
One of the most common questions building managers ask about commercial cleaning services is, how much will it cost?
The answer: Generally, commercial cleaning services cost from $0.05 to $0.25 per square foot.
Premium services (deep cleaning, add-ons like floor waxing, or specialty services for healthcare or highly secure facilities) may cost $0.50 per square foot.
Now, obviously, these square-footage costs vary widely depending on the size of the facility and the scope of services delivered. Here's how they translate as cumulative costs at commercial buildings of various sizes and service levels:
| | | | |
| --- | --- | --- | --- |
| Sq. Footage | Minimum Service | High Service | Premium Service |
| | ($0.05 per square foot) | ($0.25 per square foot) | ($0.50 per square foot) |
| 8,000 | $400 | $2,000 | $4,000 |
| 10,000 | $500 | $2,500 | $5,000 |
| 15,000 | $750 | $3,750 | $7,500 |
| 20,000 | $1,000 | $5,000 | $10,000 |
| 30,000 | $1,500 | $7,500 | $15,000 |
If you're interested in the cost of commercial cleaning services, though, you're probably most interested in how these numbers translate to your own facility.
The table above is a helpful starting point, but to get a more detailed idea of what the cost would be for you, the best path forward is to have a consultation with an expert.
Get a free, customized quote today from our expert team at The Wilburn Company.
If you want to learn more about how costs are set, read our in-depth review of cost factors and examples.
How do commercial cleaning services clean for COVID-19?
This year, understandably, we're frequently asked how commercial cleaning services clean for COVID-19.
To start: We're adhering to CDC guidelines. These are similar to general disinfecting guidelines; here's a brief summation of what they include:
For hard surfaces, the CDC recommends, "[Cleaning] using a detergent or soap and water prior to disinfection… For disinfection, most common EPA-registered household disinfectants should be effective."
For porous surfaces (think carpets, drapes, rugs, etc.), the CDC recommends removing visible contamination, then laundering or using EPA-approved suitable products.
Frequently touched surfaces should be cleaned and disinfected often.
Cleaning employees should wear disposable gloves and frequently wash their hands (especially after removing gloves).
The good news is that these procedures are not substantially different from cleaning procedures to protect against other respiratory viruses (like influenza); while the diseases aren't the same, they are spread in similar ways, meaning that cleaning for them can happen similarly, as well.
However, in addition to following standard disinfecting guidelines, there are some unique innovations to commercial cleaning services that companies have enacted to combat the pandemic
For instance, we've done the following:
Upgraded our electrostatic cleaning capabilities.
If you aren't familiar with electrostatic disinfecting, here's how it works: An electrostatically charged mist is sprayed onto surfaces and objects. This mist is atomized and designed to aggressively adhere to any surface, which makes it a great solution for areas that are hard to reach or oddly contoured.
Once the mist lands, the sanitizing agent it contains works to disinfect any contaminants – effectively eliminating the threat of contagion from a treated surface.
While we had this capability prior to 2020, in the face of the pandemic we've augmented our electrostatic cleaning resources so that we can easily apply this method wherever and whenever it's needed.
Implemented task teams for COVID-19 disinfection requests.
These teams were given special resources – like electrostatic cleaning equipment – and were on call apart from our normal cleaning activities. This allowed us to continue our normal operations while also giving us the capability to respond within hours, not days, to keep people safe.
Adapted our handling of supply chains.
You may have heard: For a while, there, it was pretty tough to get ahold of things like hand sanitizer, disinfecting wipes, and personal protective equipment. Thankfully, our company was well prepared.
We'd been focusing on supply chain relationships even before the pandemic, so we had a proactive approach to getting the necessary cleaning and protective products for our staff. When things tightened up, we had already planned for more than enough – and, in fact, we were able to help supply our clients with some of the products mentioned above, too.
The bottom line: Commercial cleaning services can play an important role in keeping building occupants healthy – even in the midst of a pandemic.
What are some of the best commercial cleaning services in Maryland?
If you've read this far, you're probably considering hiring a commercial cleaning service to maintain your facility. That means the next question is, who should you choose?
The reality is that there are a variety of commercial cleaning services to select from. But different companies have different focuses – and not all are created equal.
Let's take a look at a few of the top commercial cleaning services in Maryland.
Okay, we're a bit biased in listing ourselves first – but we're proud of the work we do in keeping buildings clean and occupants healthy.
Our company was founded in 1998 by Jim Wilburn, a 20-year Air Force veteran. Jim began working in building maintenance mopping floors at night as a second job. After his retirement from the Air Force, he began to work full time in janitorial, and eventually founded his own maintenance firm to provide custodial cleaning services in DC and beyond.
The company grew, and, in 2006, Jim's son, Jimmy Wilburn, took over the reins and oversaw a significant expansion to today's company. Today, as a GS-42 Green Seal certified cleaner with over 450 cleared employees maintaining over 8 million square feet with a focus on secure facility space, we are dedicated to providing premiere cleaning services that truly meet our clients' needs.
Our focus is on corporate office buildings and government buildings in the DC area.
This firm is another well-respected Maryland cleaning provider, but, as their name suggests, they aren't solely focused on cleaning. They also do general handyman work, including "minor demolition, power washing, drywall patching and painting, door installation, artwork hanging etc."
This firm is focused on smaller clients; they serve "schools, restaurants, retail, and office buildings throughout Maryland including Montgomery County, Frederick, Howard County, Carroll County, and Baltimore."
If you run a restaurant or retail establishment in those areas and are looking for a multifaceted commercial cleaning service, Commercial Buildings Maintenance, LLC is worth your consideration.
Finally, Commercially Clean is another option for commercial cleaning services in the Maryland area.
While they aren't particularly focused on a type of building or industry, they attempt to tailor their services to commercial spaces on a case-by-case basis. Here's how they put it on their website:
"In our experience, no two businesses have the same commercial cleaning needs. For example, a Maryland hospital cleaning service will be much different than a cleaning program for an office building. For this reason, we take the time to understand your needs and determine why you want a cleaning solution in the first place. Then we develop a customized cleaning plan for you which leaves you satisfied with your cleaning service."
If you're looking for a general cleaning provider, they may be worth a look.
How should you choose a commercial cleaning service?
With the list above in mind, how should you evaluate your options so that you select the right commercial cleaning service for your facility?
Here's a quick rundown of the factors we recommend paying particular attention to.
1. Look for customizable and comprehensive cleaning services.
When choosing a commercial cleaning company, make sure you choose one that can meet all of your needs.
For instance, here at the Wilburn Company, we don't just offer commercial cleaning services. We offer green cleaning services, general office cleaning services, or day porter services. Our extensive resources and experience allow us to customize your cleaning experience to meet all of your needs.
We dedicate one team to a building or group of buildings. That means that your environmental hygienists are familiar with your building.
2. Look for green cleaning.
Traditional ways of commercial cleaning feature wasted water, harsh chemicals, and can even damage employee health. The volatile organic compounds in traditional cleaning can cause respiratory issues, headaches, and make your employees ill. The more sick days your employees have to take, the worse your productivity will be.
Green cleaning uses less resources like water, and also uses energy efficient new equipment that provides a deep clean without chemicals that break down office décor, like carpet.
3. Get proof of quality.
When choosing a commercial cleaning service, get testimonials, data, case studies, and references to ensure they perform quality work.
If there's nothing on a company's website, don't be afraid to reach out and ask for proof of quality assurance. For example, Wilburn has a quality assurance system that has created a culture of accountability and quality within our company.
4. Ask about their employees.
Don't be afraid to ask your sales contact at your potential new commercial cleaning service about what type of training their janitors undergo. At Wilburn, our environmental hygienists undergo aggressive training to prepare them for any situation. All employees are required to participate in 36 hours of GS-42 training, along with other workforce training, such as:
General Cleaning Supplies, Equipment & Procedures use
GS42 Green Cleaning Procedures
Concentration Dispensing System for Green Cleaning Chemicals
Blood Borne Pathogen Cleaning Procedures
Hazardous Materials Handling, Transportation & Disposal
Green Clean training for Supervisory & Management
5. Choose a provider with a history of expertise.
For example, The Wilburn Company has decades of experience in commercial cleaning. Today, as a GS-42 Green Seal certified cleaner with over 450 cleared employees maintaining over 8 million square feet with a focus on secure facility space, we are dedicated to providing premiere cleaning services that truly meet our clients' needs.
Learn more about how to select a commercial cleaning service here.
Ready to get started with a commercial cleaning service?
Hopefully, the information above has been helpful as you consider what you're looking for in a commercial cleaning service.
If you're ready to get a quote for your commercial facility, we're here to help.
At The Wilburn Company, we work hard to provide premier commercial cleaning services that exceed expectations. We offer cutting-edge procedures and green commercial cleaning services. And we're powered by an amazing team of employees.
If you're ready to work with a commercial cleaning service that you can trust as a partner, we'd love to start a conversation around your needs.